MPL Moving on Big Wind
State threatens to condemn MPL land
Flying over Molokai at the height of a small airplane, tiny white dots come into focus on the ground. Upon closer inspection, perhaps at the height of a high flying bird, the dots take shape as wind generators, each the size of a 40-story building – nearly 100 scattered around Molokai's west end like rice.
So much for Molokai's no-building-taller-than-a-coconut-tree rule.
These images were shown to the public in a simulated video last week, when Molokai Properties Ltd (MPL) and wind and cable transmission company, Pattern Energy, shared their vision for a large-scale wind farm on Molokai.
During three consecutive community meetings last week, MPL said it was seeking to lease 11,000 acres to Pattern. The deal could allow Pattern to erect 90 400 foot tall turbines in the upper east and lower southwest faces of Maunaloa mountain in west Molokai.
"We have not yet made a decision and no decision will be made this evening," said MPL Executive Director Peter Nicholas during a slideshow presentation. "I think it's necessary to discuss the community benefits," he added.
Although First Wind was the only wind development company awarded by the state in 2009 the right to plan and build big wind on Molokai, Nicholas said the company "ignored local management" and did not approach MPL regarding the use of their land until mid-2010.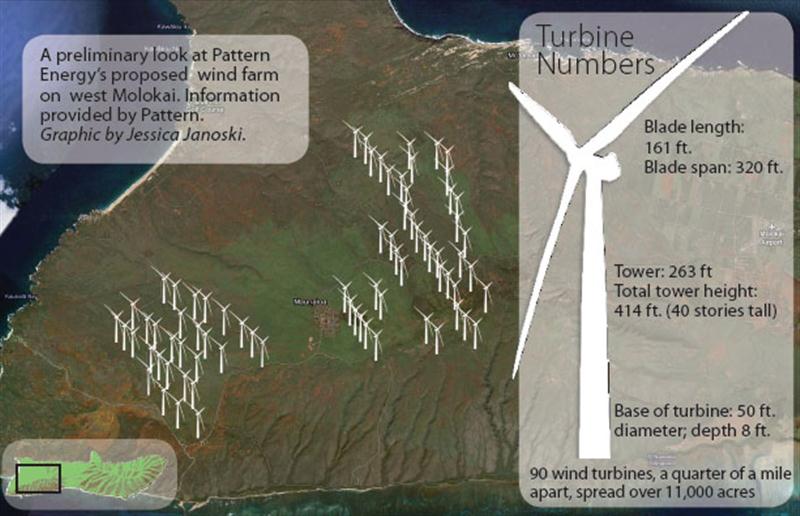 really wants community input. He wants to do it pono. We have to support honesty if they are trying to be honest," said kupuna Judy Caparida.
Reporter Mark Hayden contributed to this report.