MPL Hoping for Land Designation
Molokai Properties Ltd. (MPL) is petitioning the Department of Agriculture (DOA) to designate about 5,000 acres of its west end grazing lands under a 99-year Important Agriculture Land classification. But that designation hangs in the balance as the state decides if ranching land qualifies for the zoning change.
If granted, Peter Nicholas, CEO of MPL, would lease the land to local rancher Jimmy Duvauchelle under a 20-year contract. Besides cattle ranching, the land would also host 4-H events and rodeos according the MPL propsal.
Duvauchelle, who said he has ranched west Molokai his entire life, currently owns Pohakuloa Ranch which is situated on 3,000 acres within the proposed designated area. The ranch employs about seven cowboys and other staff.
Duvauchelle also manages Diamond B Ranch for its Maui owner, Brendan Balthazar, also a lessee of MPL. The land designation would allow Duvauchelle to take over the 1000 acres of Diamond B Ranch which is also within MPL's petitioned area.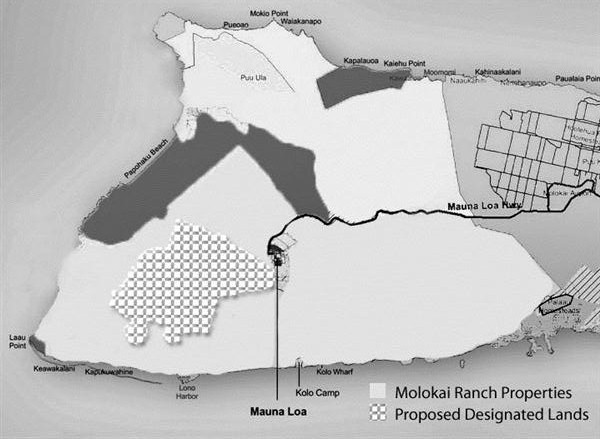 Duvauchelle says he is confident that with the go-ahead of the proposed classification, he can double his herd from about 250 to 500 cattle.
A Scrutinized Review
Last week, the Land Use Commission and the DOA visited the site and discussed the designation's merits with members of the public. The two government agencies oversee Important Land Designation (IAL) petitions.
However, MPL's petition is receiving scrutiny. In a letter to MPL, DOA stated several reasons why the land might not qualify as IAL.
One reason includes a lack of information provided by MPL, "particularly when involving agricultural lands with challenging soil [and] water availability."
The DOA also wrote that because the primary use of the land would be ranching, competition for food sources between deer and cattle would cause a "handicap" for increasing cattle operations. DOA also states IALs are not intended for "accessory activities" such as deer hunting, or rodeos.
A Supporting Community
Many of Duvauchelle's friends and family spoke in support of the designation.
"The IAL designation will enhance agricultural activities on Molokai for years to come," said homesteader Adolph Helm. "Not only will it help Jimmy, but it will help many businesses in the community."
If successful, the designation could provide MPL up to $7.5 million in tax breaks. The money could be claimed "for roads or utilities, agricultural processing facilities, water wells, reservoirs, dams, pipelines, agricultural housing, feasibility studies, legal and accounting services, and equipment," according to information on the DOA Web site.
However, when asked about the potential for irrigation development under the proposed designation, Nicholas said in an earlier meeting, that MPL had no plans other than allowing Duvauchelle to ranch the property.
Lori Buchanan, who sits on the Molokai Planning Commission, said she agreed with DOA opinion.
"There's actually nothing that I can't concur with in the DOA's letter of objection. It's all correct," she said.
Steve Chaikin, chairman of the Molokai Planning Commission, said that "whether they succeed or fail in their request, it will set a precedent for others who want to do the same thing."
"I don't think [DOA and Land Use Commission's] original intent was to allow for that type of land to be allowed in that [IAL] program."