Mother Marianne Relic Visits Molokai
A relic of Blessed Mother Marianne Cope was welcomed to Molokai by members of the St. Damien Catholic Parish on its first stop of a tour of the islands. Parishioners gathered at Kalanianaole Hall last Friday evening to await the relic, which was due to arrive via airplane. Undaunted community members waited patiently after getting news that the flight was delayed. When the holy relic finally arrived, it was accompanied by several members of Mother Marianne's order of the Sisters of St. Francis, based in New York.
"I'm happy this was the first island [on the relic tour]," said Sister Patricia Burkard, general minister of the Franciscan Sisters. "It's a personal privilege and honor to travel with her."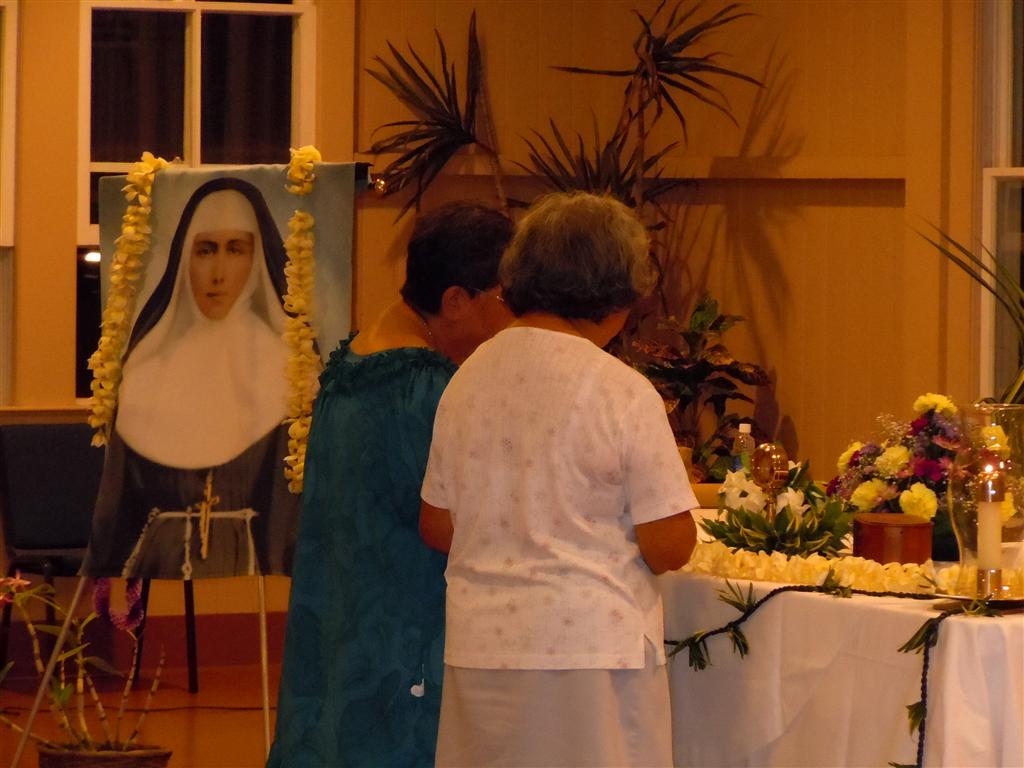 In honor of Hawaiian tradition, an `oli was performed by student Sarah Gorospe as the relic entered the hall. A short service was held, followed by time for personal veneration. Pictured above, two Franciscan sisters from Molokai pay their respects to Mother Marianne.
"I felt this sense of her coming home – a full circle," said Leoda Shizuma, pastoral council chair of the parish.
A vigil with the relic also took place at the Damien Center Friday night. On Saturday, it journeyed to Kalaupapa for a special Mass and will continue on to the other islands this week, ending at the Cathedral of Our Lady of Peace in Honolulu, where the relic will rest permanently.
Blessed Mother Marianne worked with St. Damien in Kalaupapa, serving patients of Hansen's disease for 30 years until her death in 1918. She is currently being considered for sainthood by the Vatican.