Money Matters
Continue funding the MEO bus, several Molokai residents and educators told Maui County Mayor Alan Arakawa last week.
Arakawa visited Molokai last Thursday to host a ceremony honoring county employees in the morning, his "County on Your Corner" open community discussion in the afternoon and a community budget meeting with representatives of his cabinet that night.
During the latter, residents and workers showed their support for many of the island's county-run programs, thanking the mayor and his cabinet for current funding and requesting it continue during the 2013 fiscal year. The MEO bus, many said, is a vital part of the success of other on-island programs.
"Losing [the MEO bus] would greatly diminish our effectiveness" in reaching students through after-school programs, Molokai Middle School Principal Gary Davidson said in a prepared speech read by a student.
Kupono McPherson of Tutu and Me Traveling Preschool said the school "lives off of [the MEO bus system]" and without their service, "we don't really exist," while a message submitted by Molokai High School Athletic Director Camie Kimball said that "without MEO, many of our students would not be able to participate" in school sports.
Linda Liddell, a disabled person who uses an electric wheelchair and sits on the Maui County Commission on Persons with Disabilities, also said she depends on MEO for transportation.
After the meeting, Arakawa said he was interested in addressing concerns that the public bus system be as efficient as possible in its schedule.
In addition to MEO transportation, residents expressed support for a wide variety of local operations, including the Molokai Youth Center, Ka Hale Pomaikai substance abuse treatment center and the Kuha`o Business Center. Under the guidance of Annette Pauole-Ahakuelo, the center has helped more than 120 businesses open their doors, said Malia Akutagawa.

A budget plan will be presented to the Maui County Council in March 2012, Arakawa said, and the council will finalize it by mid-June that year.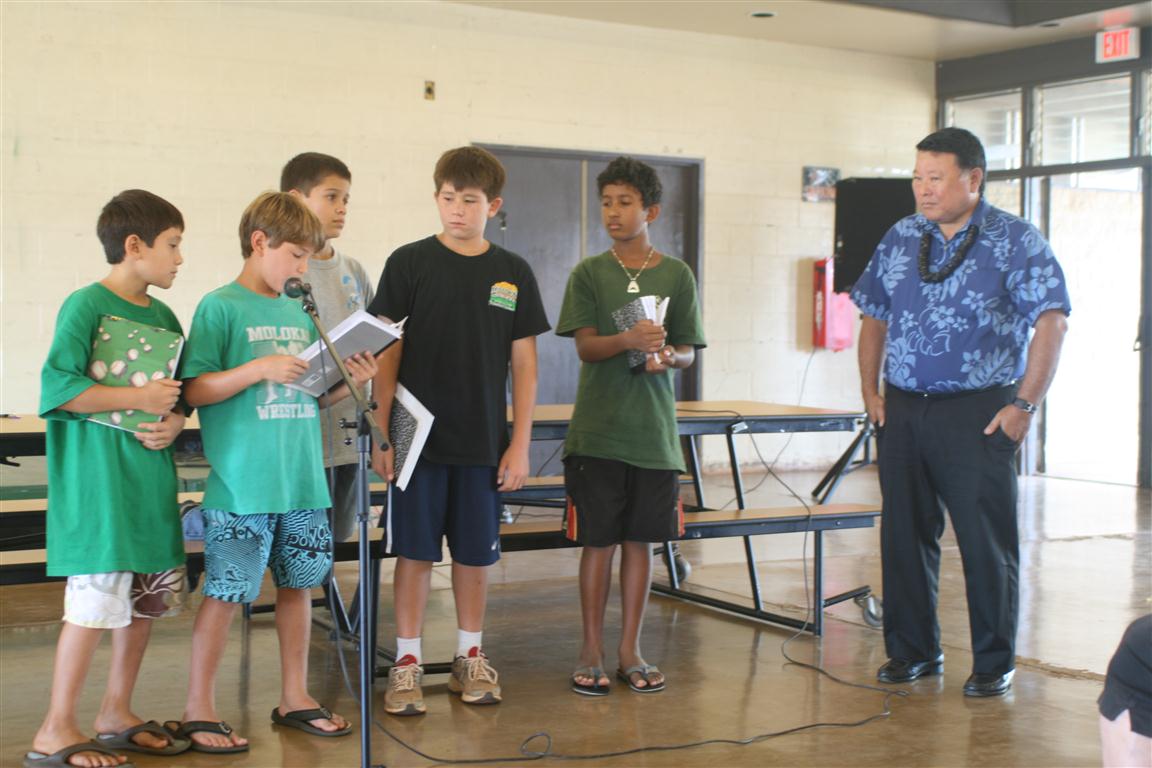 County on Your Corner
Community members also had the chance to speak with Mayor Arakawa on Sept. 22 during his "County on your Corner" open forum. Residents expressed mana`o on several issues that need county support, including the Molokai Humane Society, 4-H and the Molokai Homestead Farmers Alliance. I Aloha Molokai also expressed concerns of future wind turbines on Molokai.