Molokai's Own Named Statewide Educator of the Year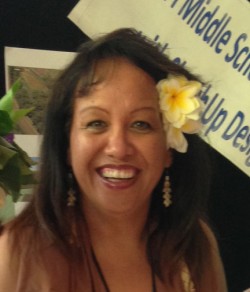 Every day, Molokai teachers nurture our students in the classroom, spend hours of their own time preparing lessons and assisting youth in afterschool programs, and carry the weight of ensuring the success of the future generation. One Molokai educator was recognized in particular this year for doing it all with grace, and going above and beyond her job description. Molokai Middle School (MMS) Hawaiian Language Immersion teacher `Iolani Kuoha received the Hawaii Association of Middle Schools Educator of the Year award last weekend – and she said she accepted the honor on behalf of her fellow teachers.
"I represent not only myself but all the teachers," she said. "Even though we're under all this pressure, we're still getting recognized."
MMS Principal Gary Davidson, who nominated Kuoha, said it's important that our community knows that teachers at the middle school are doing a good job.
"What goes on in schools these days, both the teaching and the learning, is quite different from what we adults may remember," explained Davidson, via email. "The process of educating our youth so they can be happy and successful when they are adults is so much more complex and demanding than in the past because the world itself is more complicated and moves at such a rapid pace."
Fellow educator Lyn Bonk with the UPLINK afterschool program said Kuoha always extends herself to strengthen the school. Bonk said Kuoha makes herself available to students at all times after school, and has even held sleepovers in her classroom for students who have not met a project deadline. The sleepovers include a home-cooked dinner from Kuoha.
"I believe one of the things Iolani excels in is she exemplifies Hawaiian culture and brings it into the 21st century," said Bonk. "She tries to look for ways to make education meaningful for students within their culture."
That has included service learning projects funded through Kuoha's own pocket such as taking her students to pick up litter at Mo`omomi, said Bonk. Kuoha even took the project to the next level, guiding youth to categorize, count, weigh and keep careful records of the beach debris for longer-term education on how it affects coastal waters, according to Bonk.
"On a campus we don't always know what a teacher offers in addition to classroom teaching… in preparing students for success," explained Bonk. "There's so much more we all need to succeed in our lives [other than the classroom] and that's what she offers."
Kuoha said one of the most rewarding parts of her job is positively touching lives. For one youth, just pausing to say a few words was all it took to turn his life around – he credits Kuoha for keeping him alive or out of jail.
Upon hearing of Kuoha's award, Hawaiiloa Mowat wrote a Facebook post, shared with the Dispatch by Kuoha, thanking her for encouraging him and connecting him with a state program for young adults almost 15 years ago.  Mowat recalled how "messed up" he was at age 17.
"If [Kuoha] did not turn around that day to reach out to me, I would not be where and who I am today," Mowat wrote. "You [are] such an instrumental tool in many, many people's lives."
At the time, Kuoha was working for the Department of Labor while going to school to make a career of helping youth as a teacher.
"I was very overwhelmed by his story," she said of Mowat's words.
Last week, educators on Molokai took a day off from teaching to participate in workshops, focus groups and evaluations for professional development. Kuoha was congratulated by fellow teachers and she shared what Mowat had written – though she said she couldn't read to the end without tearing up.
"As a teacher, I know I have touched several lives," she said. "Students who already graduated and have kids of their own have come and thanked me."
Davidson said in his nomination letter that Kuoha often attends conferences and workshops to gain knowledge and enhance her skills and represent MMS as a school leader. In addition to contributing as a teacher, she has also acted in additional roles like Grade Level Chair, Accreditation Chair, member of the School Community Council, and lead liaison with several professional and nonprofit entities, said Davidson.
Currently, Kuoha is on a year-long sabbatical to write project-based curriculum connected to the Malama Honua Worldwide Voyage of the Hokule`a, to be shared with MMS teachers and other schools throughout Hawaii and the world.
Last weekend, Kuoha traveled to Honolulu to receive the Hawaii Association of Middle Schools Educator of the Year in a ceremony at `Iolani School.
"When `Iolani [was] honored by her peers across the state as someone who does an extraordinary job, that reflects back on our school and our island," said Davidson. "Molokai is home to some of the best people in the world, and Molokai Middle School is proud to count `Iolani Kuoha as one of ours."