Molokai's Newspaper Earns Journalism Awards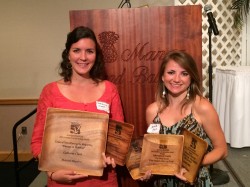 Molokai Dispatch News Release
Molokai's only newspaper, The Molokai Dispatch, is honored to announce that it now stands among the state's award-winning publications. After submitting entries to the Society of Professional Journalists (SPJ) Hawaii Chapter Excellence in Journalism contest for news published in 2013, the Dispatch earned top honors. At an awards ceremony on Oahu last weekend, Dispatch staff came home with five awards.
Editor Catherine Cluett received first place in the non-daily newspaper general reporting category for a series titled "Energy on Molokai." Judges commented, "Nice job balancing the different perspectives on this story. Lots of potential impact to the local community."
Dispatch Sales and Design Manager Laura Pilz was awarded finalist in the page design category for her layout of Ka Molokai Makahiki 2013.
"Colorful page with a lot going on, but not too busy to confuse the reader," wrote judges, who were selected from the Colorado SPJ chapter to maintain neutrality.
Other Dispatch finalists were Cluett in the feature writing category for "Island Legend: Paniolo Jimmy Duvauchelle," former reporting intern Jessica Ahles in the community reporting category for "Poop Scoop: what happens after you flush," and former graphic design intern Vincent Meadows in the informational graphic category for his flowchart accompanying the same story.
"As a small, local newspaper, we are thrilled to be named among the state's best publications," said Cluett. "We are honored to represent the Molokai community in this way and we thank our readers near and far, our advertisers and businesses and the entire Molokai community for all of your support, which has enabled this success."
The SPJ awards are given annually in categories such as Daily and Non-Daily Newspapers, Magazines, Television and Radio. Other winners this year included Hawaii Magazine, Hawaii News Now, Maui News, Hana Hou! Magazine, Mana Magazine, Civil Beat and Hawaii Tribune-Herald, among others.
The Molokai Dispatch publishes a weekly newspaper with a distribution of 3,800 that serves as the island's voice by sharing news and community opinion, fostering discussion, providing political and environmental coverage, and celebrating the successes of our youth, legacy of our kupuna and perpetuation of Hawaiian culture. In addition to distributing newspaper free of charge around the island, we also offer digital and mailed subscriptions all over the U.S., and social media connections on Facebook, Twitter and Instagram.
With a full-time staff of two, The Molokai Dispatch also has an internship program which offers recent graduates from around the country a hands-on learning experience in journalism, an opportunity to learn from the Molokai community, and supports the quality coverage we strive to provide.
The Molokai Dispatch will celebrate its 30th year in print in 2015.