Molokai's Miss Congeniality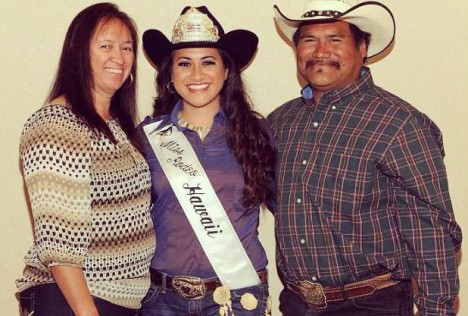 This year's Miss Hawaii Rodeo, Cheyanne Keliihoomalu, made history as the first contestant from Molokai to compete in the Miss Rodeo America Pageant earlier this month. She came home with what she called "an amazingly fun experience" and an award – being named Miss Congeniality, bringing with it a $1000 scholarship.
"It was a very tough week and so far out of my comfort zone," wrote Keliihoomalu in a letter to the Dispatch. "However, it was an amazingly fun experience and I got to experience it with a phenomenal group of women from all over the country, who I can now call my friends."
The Miss Rodeo America Pageant, held in Las Vegas, takes place annually in conjunction with the Wrangler National Finals Rodeo. Contestants must demonstrate knowledge, skill and grace by competing in areas of appearance, horsemanship and personality.
Twenty-four-year-old Keliihoomalu is a sixth generation paniolo on Molokai whose family worked for Molokai Ranch. Describing herself as shy, she prepared for months for the competition, and her hard work paid off as she flashed the shaka and shared her aloha spirit with the crowd.
"She did us proud and brought her aloha with her," said Miss Rodeo Hawaii event organizer Lu Faborito, who also has families ties to Molokai. "They all loved her Hawaiian spirit and humble, sweet presence."
Faborito said everyone "adored" Keliihoomalu, and she represented Hawaii's paniolo traditions well.
She will reign as Miss Rodeo Hawaii until a new contestant is crowned next year.