Molokai's 1st Little Free Library Open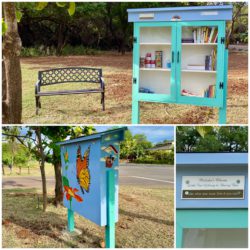 Kawela Plantation Homeowners Assn News Release
Just past mile marker 4.5, at the entrance to Kawela Plantation II, you will find Molokai's first Little Free Library. A global phenomenon, the small, front-yard book exchanges number more than 100,000 around the world in over 100 countries. Now, with the support of the Kawela Plantation Homeowners Association, Molokai's new Little Free Library will join the movement to share books, bring people together and create communities of readers.
"Our Little Free Library doesn't just belong to us, it belongs to Molokai," say Kawela Plantation residents, who introduced the idea of installing the library. "It's our hope that this Little Free Library will bring a little more joy, a little more connection and a whole lot more books to our community."
If you see something you'd like to read, take it. You don't have to give a book at the same time as you take one. Molokai's Little Free Library has also devoted shelf space for non-perishable food items. The principle of "take a book, share a book" extends to the food items as well.
Little Free Library (LFL) is a nonprofit organization that inspires a love of reading, builds community and improves book access by fostering neighborhood book-exchange boxes around the world. LFL received the 2020 World Literacy Award and has been recognized by the Library of Congress, the National Book Foundation and others for its dedication to expanding book access for all. To learn more, visit LittleFreeLibrary.org.