Molokai Youth Takes First in Paddleboard Race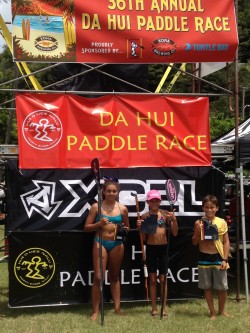 Community Contributed
By Clare Mawae
Molokai's 12-year-old Alex Mawae took the short course by storm with phenomenal finish amongst 300 plus paddlers in the short course of the Hui O He'e Nalu Independence Day Paddleboard and Stand Up paddle race. Alex took first place in his 13 and under divisionand 23rd overall in a virtual no wind race among many solid paddlers. His sister Josie also put in a credible finish to the short course while their mom Clare Mawae finished second in her division with a solid and respectable time in the long course.
The short course was from Sunset beach to Waimea, a four-mile course and the seven-mile long course started from Turtle Bay. The conditions looked promising in the morning with trades kicking in and small bumps for riding. However a rain squall came in which turned the race into a light wind event with a focus on keeping a solid pace. This is one of the more fun events in the State with so many people participating and many age divisions. The conditions did not matter as it was all about having fun with paddling.
Next on the list for the Josie and Alex will be the local Molokai event, M4Molokai and then the following weekend on Maui,Adventure sports Maui Paddleboard race with a 9.54-mile course from Maliko Gulch to Kahului Harbor, finishing at Hawaiian Canoe Club.