Molokai Youth Take a Stand on Suicide Prevention
HCCI and MCHC News Release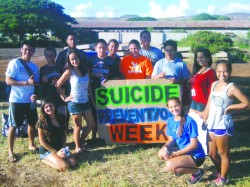 Hawaii's Caring Communities Initiative (HCCI) is a statewide program focused on engaging youth leaders in suicide prevention awareness activities. HCCI is working with youth in six communities across the state of Hawaii and has also partnered with Molokai Community Health Center (MCHC) and Molokai General Hospital (MGH).
The goal of this project is to empower the youth with knowledge and skills to make a positive impact in their community. We are proud to say we have a substantial number of Molokai youth that has been recruited to become advocates for suicide prevention. They are Momi Afelin, Noah Archulcto, Xrystina Bicoy, Hanalei Dudoit-Enos, Ekolu Greenleaf, Pauole Kaulia-Delacruz, Cody Kawano, Conan Kawano, Jayden Liu, Giesha Nunez, Misty Parker, Paul Parker, Genesis Querubin, Lace Reyes, Alexandria Simon and Michaella Tancayo.
Our youth leaders have set a date to be trained in a nationally recognized, evidence-based program called the Connect Program for Suicide Prevention (theconnectionprogram.org ). It will cover information on how youth can recognize someone who's at risk for suicide and how to contact a trusted adult for help. They will gain important leadership skills, such as public-speaking, creative, and organizational skills, by developing, planning, and implementing community awareness activities.
Youth who are trained in suicide prevention are more likely to know what to do if their friend or someone they know needs help. If a youth leader feels any discomfort at anytime they will be referred to a trusted adult that will connect them to appropriate services. Through HCCI, several people have been trained to respond to youth in crisis including a Community Coordinator and several Support Staff. This project is funded by the Substance Abuse and Mental Health Service Administration (SAMHSA) by the Garrett Lee Smith Act.
Kealoha Hooper works for Consuelo Foundation and Child and Family Services and is also the Community Coordinator for the HCCI here on Molokai with the help of MCHC staff Jessica Kaneakua, Rietta Tollefsen, Mokihana Spencer and Stephanie Napoli and from the MGH staff we have Haunani Kamakana and Melony Parker. Regardless of the reasons behind it, suicide is an extreme case of self-harm. There are numerous resources available in Hawaii. Talk to us, we can help!
Contact Kealoha Hooper at 808-646-0134, Kealohahooper@yahoo.com or Jessica Kaneakua at 808-660-2610, Jkaneakua@molokaichc.org.