Molokai Youth Place in Naish Paddle Championships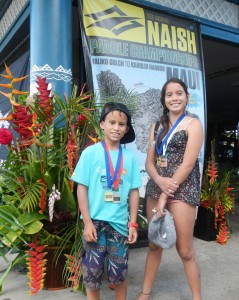 Community Contributed
By Clare Seeger Mawae
A year has gone by since two Molokai kids showed up at Maliko Gulch as the youngest contestants at 9 and 11 years old to take on a prestigious long distance course when they joined an International fleet of Stand Up paddlers. Sunday, July 22 was the seventh annual Naish Paddle Championships, a 9.5 mile stand up paddle (SUP) race from Maliko Gulch to Kahului Harbor on Maui. Josie, age 12, and Alex Mawae, 10, returned once again this year — still the youngest contestants.
Josie had to take a time out from paddling due to a broken finger but insisted on racing despite no training. In a fleet of 221 participants, the kids fared well, despite the winds dropping making it a tough and grueling race for all the race participants. The start was intense with staggered starts and after the prone paddlers, the 12'6 division jockeyed for a good position and both Josie and Alex were in the front of the lineup. Alex got an incredible start and kept a good pace and position for a good portion of the race until the wind decided to back off and drop. Josie focused on steady strokes since she had been out of the water for over a month. Despite the winds dropping and Josie knowing she could bail any time because of her recovery, chose to punch through the barriers and focus on the finish line. Josie finished third in the 12'6 division, women's 30 and under, while Alex came second to Travis Baptiste of Maui in the 12'6 division men's 16 years and under.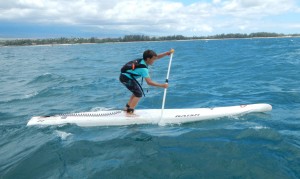 Both Josie and Alex have proved that they are both serious competitors and hopefully just the beginning of future young Molokai paddlers. They started their paddling with Youth In Motion at the end of 2010. Youth in Motion is hoping that more of the youth will be inspired to take a step further whether it is enjoying the ocean or at a competitive level.
Congratulations to Josie and Alex Mawae, who have both worked hard to achieve their goals and broaden their horizons for another exciting season ahead. Youth In Motion would like to thank all those individuals, businesses and organizations that have helped to make this possible.
For more information on Youth In Motion's upcoming season, please email Clare Mawae at clare@youthinmotion.org or call 808-336-0946.