Molokai Youth Compete in Naish Paddle Championship
Community Contributed
By Clare Seeger Mawae
The 6th Annual Naish Paddle Championships was held on Maui on July 24 from Maliko Gulch to Kahului Harbor, a distance of 9.54 miles. More than 220 world-class international competitors in both prone and stand up paddle divisions gathered for this event. Two Molokai youth, Josie Mawae, 11, and Alex Mawae, 9, were the youngest competitors in this prestigious line-up.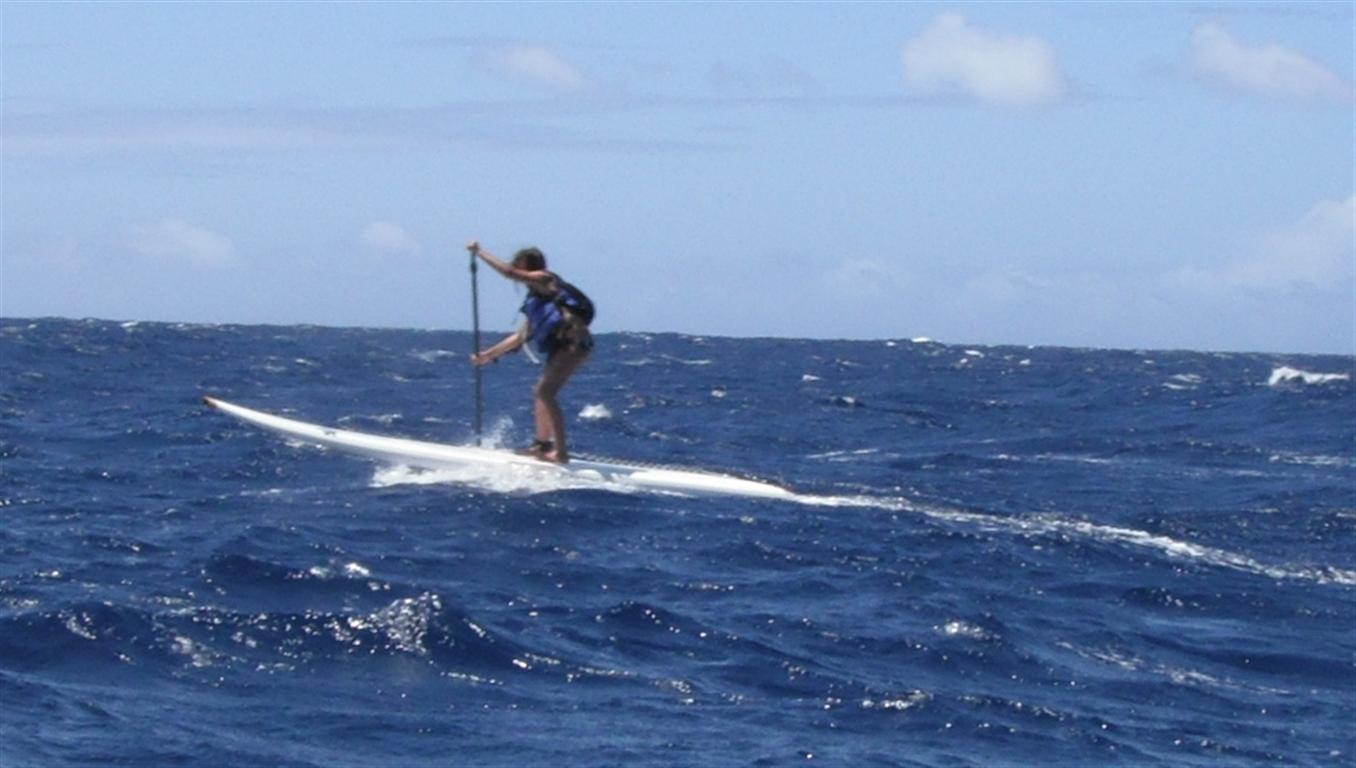 There was a lack of the regular strong trades, giving competitors winds of 12 to 15 knots to work with. The four starts were staggered by three-minute intervals, commencing with the prone, 12'6, 14' and unlimited divisions.

In the men's division, Jamie Mitchell from Australia took first place in prone and Dave Kalama took first place in unlimited. In the 14' division, it was Jeremy Riggs and in the 12'6 division it was 16-year-old Connor Baxter that came out ahead. In the women's division, Candice Appleby won prone; 18-year-old Talia Gangini was victorious in the SUP unlimited, Sonni Hoenscheid dominating the 14' division and Tomoko Okazaki winning the 12'6 division. Riggs Napolean, age 13, won the 14' class in the under 16 division, placing 19th overall.

Josie took second in the women's under 30 12'6 division, while her brother Alex finished fourth place to Baxter, one of the top paddlers in the world. Older sister Kaela, 16, finished fourth in the under 30 14' class, while I took the role of a racing chaperone paddling back and forth between the Molokai kids.

This event was quite the experience for these young paddlers, who brought home respectable times of 2:09 and 2:10 considering the light winds and lack of muscle power compared to other paddlers. Perhaps the best part of this event was that their confidence rose, knowing that the deep blue and rolling swells of the ocean are not as scary as they once appeared.

It was also refreshing to see other young paddlers in the race with 12-year-old Skylar Lickle from Maui, 13-year-old Heimoana Delongeaux from Tahiti, Maleko Lorenzo from Maui, 13-year-old Riggs Napoleon from Oahu, the 14-year-olds Bern Roediger, Noah Yap, Travis Baptiste and 16-year-old Connor Baxter. These kids are paving the future for hopefully many more young paddlers to enjoy this sport.

A great event by all and perhaps next year there will be more of a line up from Molokai.