Molokai Wins at Makawao Rodeo
By Rick Schonely and Catherine Cluett Pactol
Molokai paniolo came home well-decorated from the 4th of July Makawao Stampede rodeo on Maui. Sale Sproat was named the weekend's coveted All Around Cowboy after a series of wins in various events, Kahiwa Augustiro placed third in bull riding and third in steer wrestling, while his brother Chevy Augustiro earned second place in steer wrestling, Sproat's daughter, Bailey Sproat, won the second heat of steer undecorating, and Lane Kamakana competed as well.
After spending the first few days of the rodeo in roping events, Sunday brought five events for Sale Sproat. He won his first event of the day, Po'o Wai U, and gained a personal best of 17.26 seconds, before moving on to Ranch Bronc Riding, winning the event with an eight-second ride. After catching his breath, Sproat snagged second place in the double mugging. He earned another first place in the steer wrestling, competing against his nephews Chevy and Kahiwa, who placed second and third, respectively, in the event. Sale came away from his final event of the day, tie-down roping, with a second in the round and fourth overall.
"I feel really fortunate to have drawn good stock which put me in place to do so well last weekend," said Sproat. "I am super happy to have been the All Around Cowboy for the first annual 4th of July Makawao Stampede Rodeo."
Kahiwa Augustiro, an 11th grader at Molokai High this year, has qualified for nationals since sixth grade. He said his parents, Kalehua and Maka Augustiro, sent him to the Makawao rodeo to prepare for the upcoming national finals later this month.
"It is literally the only way for me to get in some practice for the National High School Rodeo Finals that I have earned a spot in this year being held in Nebraska July 18-24," said Kahiwa. "I will be entered in the Bull Riding and Steer Wrestling events. We don't have bulls or steers to practice on here on Molokai, so the only time I get to practice is during a live rodeo run."
The dangers of the competition didn't get past him.
"I got hung up on Sunday and got a little busted up, but happy to have walked away from that wreck," Kahiwa admitted, adding he was happy to be competing alongside his uncle and brother in the steer wrestling event.
He was full of gratitude for the opportunity to compete.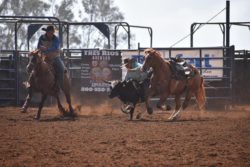 "I'd like to thank my parents… for all the sacrifices they make just to get me to a rodeo; my uncle Sale Sproat for teaching me all he knows about rodeoing and as you can see, he's a great competitor to follow; the Mirandas for their awesome steer wrestling horse and K Ranch facilities; Uncle Cliff for supporting me throughout my high school season; Rory Souza for providing awesome bucking bulls to ride; and all the rodeo families that are there for me when I need them," said Kahiwa.
After more than a year of cancelled events, paniolo are happy to get back in the saddle of competition again.