Molokai Water Protectors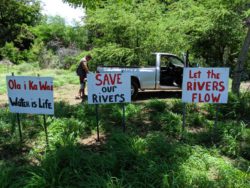 By Walter Ritte
Molokai has a long history of fighting for the rights to use the limited "surface" and "ground" water resources on our island. The battle is about to heat up again. I will be writing a few articles to keep our community informed and abreast.
The Hawaii State Water Commission will have on its agenda in a few months a petition filed about a year ago regarding the "diversion" of surface waters (streams) by Molokai Ranch. Older issues such as using ground water at Well 17 with out permits for over 10 years will also be raised.
Some of the issues (there will be others), include the impacts on our forests and stream life, the impacts on our springs along our shorelines, reefs and fishponds. The U.S. Department of the Interior (USGS) has now completed an extensive study, Numerical Simulation of Groundwater Availability in Central Molokai, Hawaii, which will provide answers to the many questions and concerns regarding Molokai Ranch's mountain stream diversions and ground water Well 17.
As we all know, water is life, and all of the islands have been involved in major water battles over the use of this limited resource.
We are organizing our community (Molokai Water Protectors) so we can be prepared to be involved in the decisions that the State Water Commission will make. We have also asked the Earth Justice Law firm to represent our concerns and involvement.
As many of you already know, Molokai Ranch has been up for sale for over a year now by the foreign company from Singapore. This water battle will have a major impact on the ridiculously high price that they are asking for their dry arid lands.