Molokai Voters' Election Guide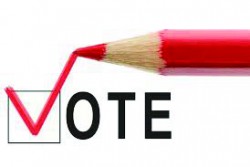 What to know before heading to the polls.
Primary Election day is quickly approaching. Your vote is your voice and one of the most powerful forces to shape the future by electing a representative government who will make decisions which affect you, your family and your community. On Saturday, Aug. 9, cast your vote for the candidate you think best represents your vision for the future.
The options can be confusing, though, and seeing the ballot for the first time at the polls can be overwhelming if you're not prepared. So to help you get ready for this year's primary election, the Dispatch has compiled a list of the candidates that will appear on Molokai ballots.
Overview: The primary election is held to nominate candidates who will represent each political party in November's general election. Candidates who don't belong to a specific party must be nominated in order to appear on the general election ballot as a nonpartisan candidate.
What: 2014 Primary Election
When: Saturday, Aug. 9 from 7 a.m. to 6 p.m.
If you are unable to make it to the polls on Election Day, you may absentee vote at absentee walk-in polling places. Walk-in absentee voting for Maui County began on Monday, July 28 and continues until Thursday, Aug. 7. Walk-in absentee voting on Molokai will be held at the Department of Accounting and General Services (DAGS) Building #1 room 104 in the State Building in Kaunakakai between 8 a.m. and 4 p.m. Monday to Friday, and 8 a.m. to noon on Saturday until Aug. 7.
Where: Check your voter registration card that was mailed to you or visit Hawaii.gov/elections to get your precinct location. Polling places on Molokai are: Kilohana Community Center, Kaunakakai School Cafeteria, Kualapu`u Community Center, Maunaloa Community Center or Kalaupapa Settlement Hall.
Who: You must be a registered Hawaii voter to cast your ballot. If you haven't already registered to vote, it's too late for the primary elections, but you may still do so for the general election in November.
What to bring to the polls: A valid photo I.D. with signature, such as a Hawaii driver's license or state I.D. card.
How: When voting in the primary, you must select one party in the "Select a Party" section of the ballot, and then vote only for candidates of the party you selected.  If you don't select a party and you vote in more than one party ballot, your vote will not be counted. Offices such as Office of Hawaiian Affairs and county officials have no party restrictions and you can vote for anyone. Review both sides before voting. Fill in the box completely to the left of your choice.
Visit hawaii.gov/elections or call Maui County Clerk's Office at 270-7749 for more information. The general election is on Tuesday, Nov. 4, 2014. Voter registration deadline for the general election is Oct. 6, 2014. Absentee application deadline is Oct. 28, 2014.
To view a sample ballot for Molokai visit hawaii.gov/elections click under "2014 Polling Place Locator and Sample Ballot" and enter in your polling place location and pertinent personal information.