Molokai Volleyball Player Signs with North Idaho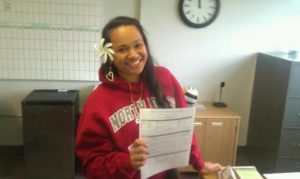 North Idaho College News Release
LeeNell "Nohe" Hernandez, a 5-foot-7-inch outside hitter from Molokai, has committed to the 2012 North Idaho College volleyball team.
"On my recent visit, I observed and felt the intensity of Coach Kelly's [NIC Head Volleyball Coach Kandice Kelly] program, which made an immediate impression. I loved the team chemistry and passion which produced that quality volleyball," Hernandez said. "Coeur d'Alene and the NIC campus is clearly a beautiful place surrounded with friendly people that made me feel like NIC is the perfect home for me for the next few years."
In 2010, Hernandez was an impact player on Molokai's first Hawaii High School Athletic Association Division II state championship team. With a few Maui Interscholastic League titles under her belt, Hernandez led her young team in her final senior season to a 2011 eighth place finish at the HHSAA DII state championships. Hernandez also played with the Kime Ka La volleyball club on Molokai, which in addition to off-season training, provided her an opportunity to travel to the states for the first time.
"Nohe will be an excellent addition to our team for many reasons," Kelly said. "She fit right in with the team and is as sweet as can get. She is a great ball handler and will be competing for a libero or outside hitting position."