Molokai Volleyball Player Earns Honors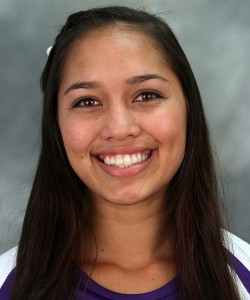 Linfield College News Release
Linfield Volleyball's top offensive weapon Kailana Ritte-Camara, a sophomore from Molokai, has been named to the 2012 All-Northwest Conference Volleyball Second Team. The honor was announced last week following a vote of the league's coaches.
The sophomore outside hitter led the Wildcats with 2.73 kills per set, totaling 259 for the year. She ranked 11th in the conference in that category, while also adding 27 assists, 27 service aces, 298 digs and 27 total blocks.
Ritte-Camara registered double-digit kills 15 times during the 2012 season, including a season high of 17 against Willamette. Starting all 24 matches, she ranked third on the club in digs per set (3.65) and second in service aces (27).
This marks the first career first or second team award for the second-year player. At the conclusion of her freshman campaign, in which she averaged 2.82 kills per set, she was an honorable mention selection.
As a team, Linfield finished eighth in the Northwest Conference with an overall record of 9-15, including 4-12 against league opponents. Season highlights included a five-set nonconference victory over then-23rd ranked Occidental in early September and a three-set sweep of Whitman on the final weekend of the season.