Molokai USDA Employee Awarded
Hawaii Invasive Species Council News Release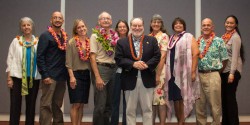 During Hawaii Invasive Species Awareness week that started on Monday, March 3, Molokai U.S. Department of Agriculture employee Chevalier "Chevy" Levasa was recognized as the Maui Nui MVP for 2014. State representatives and senators presented a variety of awards to those who lead the fight against invasive species, including 2013 Community Hero, 2013 Hottest Hotline Report to 643-PEST, 2013 Business Leader, Greatest Hit of 2013 and MVPS's from each county in the state. Declaring that "invasive species pose the single greatest threat to Hawaii's health, environment, economy, and people" Governor Neil Abercrombie praised the award recipients for their dedication to protecting Hawaii.
Levasa's award was presented by Sen. J. Kalani English. As a U.S. Department of Agriculture APHIS PPQ Plant Health Safeguarding Specialist on Molokai, Levasa is responsible for screening luggage for passengers departing for the mainland and working with local farmers and growers to ensure compliance for fruits and vegetables exported to the mainland. Unofficially, she's is part outreach specialist, field crew, agricultural inspector, and planter of butterfly gardens. She's done surveys for the University of Hawaii and Hawaii Department of Agriculture for invasive species, not because it was in her job title, but because she sees protecting Molokai as her kuleana.
Levasa has worked with local coffee growers and Young Brothers to develop protocols to prevent the introduction of coffee berry borer.
"On Molokai, everyone has to wear more than one hat. The focus is on protecting our island, and it's nice when we can call one another or send a text, hop in the car and go do it," Levasa said. "It's the pride of taking care of where you live and what it means. I just do it because it's the right thing to do. I just follow my heart."