Molokai Tropical Fruit Growers Awarded
HTFG News Release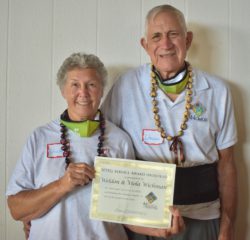 The statewide Hawaii Tropical Fruit Growers (HTFG) named the recipients of its annual appreciation awards today at the 32nd Annual Hawaii International Tropical Fruit Conference at the Royal Kona Resort. The conference returned to an in-person format after two years of virtual gatherings due to COVID.
The annual awards honor individuals who advance—through research, education and practice—the use of tropical fruits to support a sustainable, local food industry. In addition, this year's accolades include service awards chosen by each island chapter and "Dirty Fingers" Awards.
"The new award format is a way for each island chapter to offer recognition to one who has dedicated themselves to the HTFG mission of promoting all aspects of growing and marketing tropical fruit in Hawaii," explained HTFG Executive Director Ken Love. "The Dirty Fingers certificates are for those who, week after week, have performed hard farm work to insure HTFG has healthy propagation material for repositories around the state."
Island chapter service awards include Molokai's Weldon and Viola Wichman, for building the island's chapter into one of the state's largest. The couple's dedication to fruit growing in Hawaii is evident at the Molokai repository that offers availability of plant resources to growers on the island.
Lauded with the William K. Trask Chefs Award is Alice Schere of Hawaii Island's Adaptations Inc. The award is named after the late Chef Trask, a Maui native, who advocated for the use of locally grown food in Hawaii cuisine.
Taking home the Roger Vargas Research Award is Dara Stockton for lace bug and fruit fly investigation. New to Hawaii Island, Stockton hit the ground running to research how growers can better combat lace bugs, fruit flies and other pests plaguing fruit growers. The Roger Vargas Award remembers the late renowned expert in the biological control of fruit flies who served as a research entomologist at the Pacific Basin Agricultural Research Center.
Nicolas Rowser is the recipient of the new Dayday Hopkins Award for service in Hawaii County for agriculture enrichment. The late Margarita "Dayday" Hopkins of Hilo worked for Hawaii County's Department of Research and Development for 23 years and served as a UH Hilo lecturer for economics and ag business.
Geared to farmers, educators, orchard managers and proponents of sustainable agriculture, the multi-day HTFG conference is made possible with the support of the Hawaii Department of Agriculture, County of Hawaii and HTFG members from across the state.
Marking its 33rd year, HTFG was incorporated in 1989 to promote tropical fruit grown in Hawaii. It is a statewide association of tropical fruit growers, packers, distributors and hobbyists dedicated to tropical fruit research, education, marketing and promotion.