Molokai Throwback Jam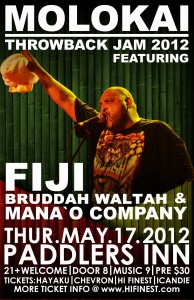 Community Contributed
By Paulele Alcon
Molokai, I hope you're ready for the biggest and most anticipated show to ever hit the Friendly Isle. This Thursday, HI Finest Clothing presents the Molokai Throwback Jam 2012 Featuring Fiji, The Mana'o Company and Bruddah Waltah. Molokai has seen some pretty big shows over the years, but nothing quite like this one. It's been years since these local music pioneers blessed our island with their music, and they are all going to be performing together on one stage in one night.
Fiji, The Mana`o Company and Bruddah Waltah all share multiple Na Hoku Awards, been in the business for over 20 years each, sold out shows all over the world, and all share a common love for Molokai. They each could have headlined their own show but agreed to be a part of a special night on Molokai, a night taking us all back to the good ole days.
The Throwback Jam will be a night full of music, memories, and groovy hits that we all grew up listening to. We will hear songs such as "Sweet Darling," "Naughty Girl," and "Smokin' Session" from Fiji. "Drop Baby Drop," "Roots Rockin," and "Spread A Little Aloha" from Mana'o Company. And songs like "Sweet Lady of Waihole," "Keep Hawaiian Lands" and "To Love Somebody" from Bruddah Waltah.
With that being said, hope to see you all at The Molokai Throwback Jam 2012 this Thursday, May 17 at Paddlers Inn. Doors open at 8 p.m., show starts at 9 p.m. and the show is open to an audience of 21+. Pre Sale tickets are $30 and available at Chevron, Hayaku Gas, HI Finest Shop, iCandie, Buffy Purdy and Ella Nakagawa. Get your tickets early because this show is guaranteed to sell out.
HI Finest Clothing will also be selling a brand new line of Molokai's Finest shirts at the concert and at the HI Finest Shop the day off. This includes three brand new designs, which were made exclusively for the island of Molokai. HI Finest will also be bringing you Common Kings, Katchafire and other shows this summer. Check out HIFinest.com to stay updated on upcoming concerts, new lines, and all HI Finest news.
Mahalo Molokai for the support!