Molokai Teachers Renew National Board Certification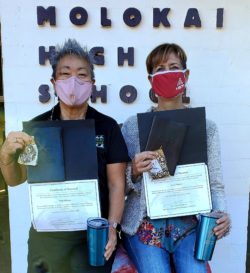 NBCT News Release
Molokai High School Librarian Diane Mokuau and Student Services Coordinator Laura Peterson are two of thousands of teachers across the United States to renew their certification as a National Board Certified Teacher (NBCT).
The National Board for Professional Teaching Standards is excited to celebrate these teachers along with the more than 20,000 teachers currently pursuing Board certification – seen as the profession's mark of accomplished teaching.
"The pandemic truly tested the mettle of anybody working in a school setting — including teachers and their students," said Peggy Brookins, NBCT, President and CEO of The National Board. "Those teachers who renewed their Board certification this year voluntarily chose to challenge themselves, reflect on their practice and confirm that they are teaching to the highest standards. There should be high standards for all professionals — and these professional educators have proven that they teach to those high standards during a year that was uniquely difficult. Today's announcement is a reason to celebrate."
Mokuau and Peterson were in the first group of NBCT's on Molokai.
"NBCT is the best professional development to hone your craft as accomplished teachers," said Mokuau. "I really appreciated the support I received from my colleagues and mentors. I'm thankful I can continue supporting NBCT candidates as a Jump Start facilitator and HSTA NBCT Support lead."
Laura often tells teachers, "You don't have to feel like the most accomplished teacher in the world to pursue National Board Certification. It is the process of doing it that results in you feeling accomplished!"
The National Board is working to set the expectation that all teachers in every classroom should demonstrate accomplished teaching via National Board certification and become leaders in their schools and communities. Every child should have the opportunity to learn from an accomplished teacher.