Molokai Taro Variety Field Day
Community Contributed
By Alton S. Arakaki, County Extension Agent
Lehua or Lehua Maoli is a native Hawaiian taro variety name most familiar today. That is because it is the most common variety that is made into poi we see in the market today. But have you ever heard of taro varieties called Lauloa Eleele ula or Ulaula Poni or Manini Kea or Nihopuu? At one time these varieties, along as many as 300 other varieties, were in the common kalo language in native Hawaiian communities as Lehua.
On Saturday, Sept. 18, Hawaiian taro varieties and their significance to the Hawaiian culture will be discussed at the 2010 Molokai Taro Variety Field Day. Held at the Molokai Agriculture Park at 8:30 a.m., Mr. Jerry Konanui will be our featured speaker.
Many years ago, as poi making became a commercial activity and fewer families made their own poi, commercial poi mills like any other manufacturing operation tried to deliver a predictable and consistent product their customers expected. This required commercial poi mills to narrow their selection of taro varieties for poi making to deliver a poi product that had consistent taste, viscosity and stickiness, and most of all color. Taro farmers also conformed to the needs of poi mills and began to produce varieties that produced a consistent poi product. Eventually that variety became Lehua Maoli, and a more narrowly focused, Lehua Maoli that are produce in lo`i, or wetland paddy fields you see today in Hanalei and Waimea Valley on Kauai. Other varieties fell victims to farming philosophy "if you can't sell'um don't grow'um." Today lesser known taro varieties are grown by families that are familiar with them through generations of growing and consuming them or by private collectors and institutions that share similar cultural or educational goals. Thus the numbers of native Hawaiian taro varieties we have today have dwindled down to about 70 today.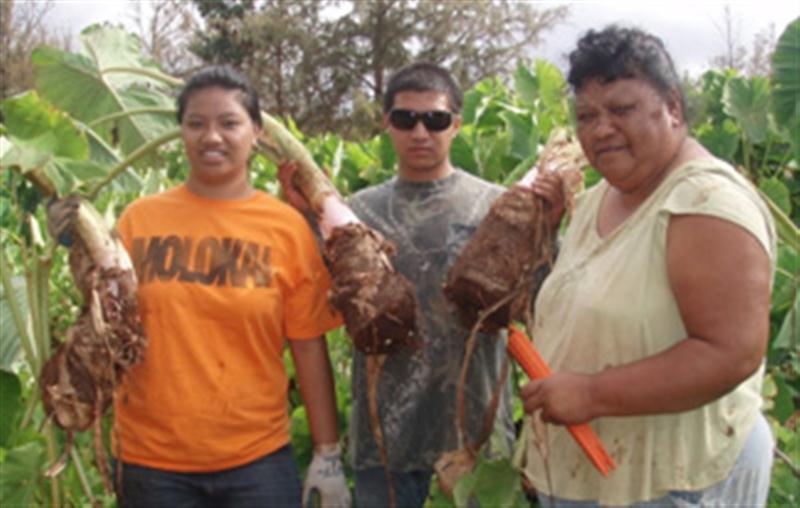 Taro farming is hard work that requires the use of valuable and limited land, water and labor resources. I'd like to believe that Native Hawaiians developed and maintained many of these varieties because they had some value. They had hardly the resources to waste on things that didn't contribute to their daily existence. At one time many ahupua`a, or land divisions, grew their own varieties, and even grew varieties that were reserved for Hawaiian royalties that visited their ahupua`a. Why they grew certain varieties in certain ahupua`a is knowledge that has not been captured well in historic information. All we know is certain varieties were favored over others in many of the ahupua`a that had different micro climates throughout the state. At least one of the reasons I'd like to believe they produced a particular variety is that it produced well in the ahupua`a to meet the five-to-nine pound of taro consumption per person per day, for the carbohydrates needed to generate the body energy to perform the daily physical tasks of survival. Now that there is increasing awareness and more discussions on sustainable communities and food security, the source and security of nutritional carbohydrates need to be part of the discussion. Or maybe it is also about time for these varieties are returned to their ahupua`a to learn more about what the Native Hawaiians knew about them and for their safe keeping.
We will have cooked samples of different taro varieties. A limited amount of native Hawaiian variety taro huli will be available for you to cut. If you are interested in cutting huli, come in your field attire, taro sap will stain. Please bring your own container, tools, pens and labels. A tank of Clorox solution will be prepared for treating your huli for soil plant diseases that might be on the surface of the planting materials. Planting native Hawaiian varieties will help preserve and perpetuate these rare culturally significant plants and also help clean and prepare the field for the next project.