Molokai Swimmers End Strong
Despite a number of obstacles, the Molokai High School swim team made an impressive show at last weekend's Maui Interscholastic League (MIL) championships at Kihei Aquatic Center.
Junior Lawaia Aalona raced a state consideration time of 23.76 in the 50-yard freestyle, a one second drop from his season debut two weeks ago. It remains to be seen if he will qualify for the state championship meet – which take qualifying times first, and consideration times if there is room – but coach Jessie Ford said the swimmer's fourth-place finish was impressive.
During Friday's qualifying meet, Aalona swam at 23.98.
"To do repeat performances, where he improves on a substantial personal best the day after in the finals, is a very good indicator of what he's capable of," Ford said. Aalona also dropped three seconds in his 100-yard freestyle during the meet, also earning fourth place at 53.31.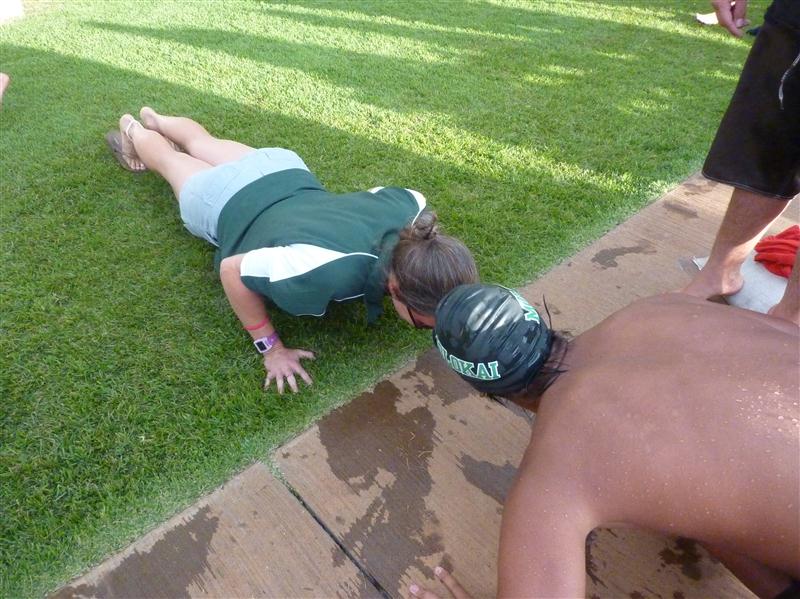 Veteran swimmers Chelsea Simon and Michael Kikukawa joined Aalona in the finals. Simon had a five-second drop to qualify her in the 100-yard freestyle, and Kikukawa dropped one second in his 100-yard breaststroke.
Novice swimmers Kala Helm, Rendy Jacobs and Michael Onofrio, and veteran swimmer Moriah Jenkins remained consistent with personal bests in nearly every race, Ford said.
She added that despite only seven weeks training in the water, using a private pool on the west end, the championship meet was full of "pleasant surprises."
"Ending the season on such an incredibly positive note made every effort worthwhile," she said. "It's a really, really good start to next year."
Ford plans to start a USA Swimming Club team, hopefully to begin in the summer, so current swimmers can "compete more successfully with year round training." The off-season team would "grow slowly but surely get a great foundation," and eventually include athletes of all ages.
Ford thanked her assistant coach, as well as supporter Lloyd Yonemura for their help.