Molokai Students Visit College
Community Contributed
By Allison Place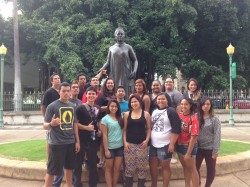 On Nov. 15 and 16, 17 Molokai High School students participated in the 2013 Hawaii College and Career Fair at the Blaisdell Center on Oahu.  The students are participants in Ke Kukui Mohala o Molokai, a partnership between Queen Lili`uokalani Children's Center, UH Maui College, Molokai/Gear Up Hawaii and the Education Opportunities Center (EOC).  Ke Kukui Mohala o Molokai provides parents and `opio with college information such as searching for the right college, SAT test, college applications, scholarships and financial aid information.  It is through these services that students will experience a smooth and enjoyable transition to college.
During the two-day trip, students visited Chaminade University, Kapiolani Community College, UH Manoa and Leeward Community College. In addition, they were able to visit the workplace and talk with a Molokai High School alumnus who is now a chef and doing well for himself.  The students listened attentively as he shared his college experiences with them.
While at the Blaisdell Center, students met with recruiters and representatives from more than 200 colleges and organizations including public institutions, Hawaii institutions, U.S. mainland and even international institutions.  At least two students were offered immediate scholarships and the opportunity to do a mainland campus visit.
All the students were well-behaved, respectful, and represented their island, school and families extremely well, according to the chaperones.
"This is the best behaved (and largest) group I've ever taken on a trip," admitted Kekama Helm, QLCC's Community Building Facilitator.
Kelly Dudoit, UH Maui College added, "They were so good. It was actually fun to take them because they were so well behaved."
As a parent of one of these participants, I am very grateful my daughter and her classmates were given this awesome opportunity. All expenses were paid and the fact that they were able to do this together was ideal.  Regarding the Ke Kukui Mohala o Molokai program, I have been very pleased. Each month students and their parents learn the ins-and-outs of getting ready for college. The workshops have been interactive and fun, making the college-application process manageable and less daunting for everyone. We are even fed dinner!
Mahalo nui loa to Kelly Dudoit, Honeygirl English, Mahina Kamakana-Juario and Nahiwa Naki for all that you are doing for the kids (and for the parents as well). These students are better prepared for college thanks to you. I highly recommend this program to future juniors and seniors at Molokai High School.