Molokai Student to Intern with Sen. Hirono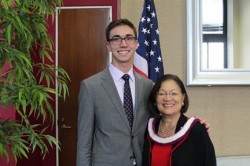 Sen. Mazie Hirono News Release
Molokai graduate Michael Kikukawa will intern with Sen. Mazie K. Hirono's Summer Intern Class this year in Washington, D.C. He is one of seven Hawaii interns selected for Hirono's Hawaii and D.C. offices.
"It's a privilege to have bright Hawaii students intern in my office," said Hirono. "Meeting with students and hearing their stories often reminds me and my staff of the importance of pushing for more opportunities for our young people, including making college more affordable, strengthening our economy, and ensuring everyone has a fair shot at the American Dream. Mahalo to Michael, Madison, Shannon, Alex, Sarah, Caitlin, and Lana for their service to our office and Hawaii."
Michael Kikukawa was born and raised on Molokai and is a graduate of Molokai High School. He was as a delegate to the U.S. Senate Youth Program in 2013, was elected the Vice Chair of the Hawaii State Student Council, and interned at Gov. Abercombie's Office of Constituent Services. He is a freshman at Harvard University, where he rows for the Freshman Lightweight Crew team, is active with the Institute of Politics, and serves on the board of the Harvard-Radcliffe Asian American Association. He is also a member of the Harvard College Democrats and the Harvard College Law Society.