Molokai Student Selected as Aloha ʻAina Leader
Kanaeokana News Release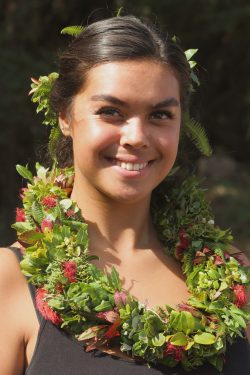 Kanaeokana, the Kula Hawaii Network, recognizes 20 graduating seniors of the class of 2020 from Hawaiian-focused charter schools, DOE kula kaiapuni and Kamehameha Schools who were selected by their schools' teachers and administrators as emerging leaders who embody aloha ʻaina leadership in their school communities.
O Hina i Ka Malama Molokai High School student Pueo Akina-Surminap is among the Aloha ʻAina Leader Award Recipients.
"A major part of Kanaeokana's vision is to bring into being a strengthened lahui that grows and sustains future generations of aloha 'aina leaders, and this award celebrates that vision," said Mahinapoepoe Paishon-Duarte, co-founder of Waiwai Collective and member of Kanaeokana's Hoʻokele Committee.
While the Class of 2020 will miss culminating events such as school gatherings in which they present their capstone projects and graduation ceremonies due to COVID19, Kanaeokana remains committed to celebrating these young leaders of Hawaii even from a distance. Their leadership and commitment to aloha 'aina inspires us to envision a healthier and more abundant Hawaii in years to come.
"Especially with the COVID19 pandemic in our midst, we are grateful that our Kanaeokana schools teach, reinforce, and practice aloha, everyday. This has not changed, even while students are learning from home. We are encouraged that Hawaiian culture based schools and programs continue to connect students strongly to ʻaina and communities," said Paishon-Duarte.
"In fact, we see a greater urgency to recognize aloha ʻaina and its importance in addressing some of the pressing problems that face our societies globally in these tumultuous times. We are growing the next generation to care for one another and the natural environment to provide sustainability for us all," said Paishon-Duarte.
Kanaeokana is a network of over 70 Hawaiian language, culture, and ʻaina-based schools and organizations (preschool through university level) collaborating to develop and grow a Hawaiian education system that will nurture the next generations of aloha ʻaina leaders. Learn more at kanaeokana.net.