Molokai Student Finalist for $10K Scholarship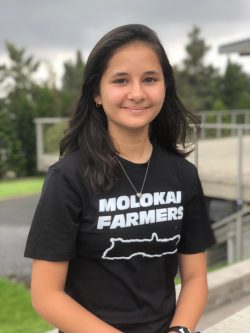 HRYF News Release
Molokai High School student Maria Angst is one of two students being considered for a $10,000 Hawaii Rotary Youth Foundation Scholarship (HRYF). Ten HRYF recipients, 10 representatives on an interview panel from 10 Maui Rotary Clubs, and 10 individual virtual interviews demonstrated the "Power of 10" this year.
The HRYF Scholarship program offers every Rotary club in the state of Hawaii a $5000 scholarship to award to a deserving high school senior planning on attending college. Each of the 10 Maui County Rotary Clubs held in-person interviews to determine their club's respective scholarship recipient. Angst was sponsored by the Rotary Club of Lahaina. These 10 recipients were to individually participate in a 20-minute in-person interview with a panel of Rotary members from each of the Maui clubs. Panel members were provided with the application materials and then were to score each candidate after the interviews were conducted. The results of the scores were to be tabulated and the top two scorers from Maui were to be forwarded to the HRYF committee in Honolulu. They will be among the 10 finalists from the state of Hawaii who will be reviewed by the HRYF committee to determine which two will receive a $10,000 college scholarship.
But then came the COVID-19 state of affairs. No in-person interviews! Thanks to "techie help" from Stuart Karlan from the Rotary Club of Kihei Wailea, the 10-member Maui interview team and the 10 candidates were able to see and hear each other for a virtual interview via Zoom! The candidates could see the panel and the panel could see the candidate during their scheduled time! Panel members completed their rankings and Angst along with Kainalu Yoshida of King Kekaulike High School will be forwarded for consideration for the $10,000 scholarship awards.
"The Rotary Scholarship interview has shown me that even in hard times great accomplishments and opportunities are still possible through the determination inside of us," said Angst. "Although the HRYF interview committee was unable to meet in person as originally planned, the 10 Rotary clubs on Maui persevered to ensure the student's future was their top priority and I had the great privilege to introduce myself to extraordinary, hard-working citizens."
For more information about the HRYF Scholarship program contact HRYF Maui Trustee Joanne Laird at mamalrd01@gmail or go to the HRYF website hawaiirotaryyouthfoundation.org.