Molokai Science Students Shine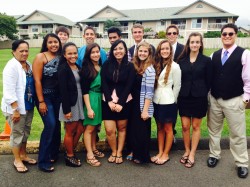 Five Molokai students will be representing Maui County at the Hawaii State Science Fair later this spring after earning top results at the 55th Annual Maui Schools' Science & Engineering Fair on Feb. 6. Molokai has established a strong track record at the state and county levels in recent years. This year, five of the 10 projects from Maui County advancing to the state competition are from Molokai, with three from MHS and two from MMS, according to Heidi Jenkins, Canoe Complex Area STEM Resource Teacher.
"As in previous years, we are very proud of our Molokai students and staff for their strong showing and performance at the Maui District Science Fair," said Lindsay Ball, complex area superintendent. "Molokai students, parents and staff have become accustomed to successful projects because of their high expectations."
MHS junior Sarah Jenkins placed second at the 55th Annual Maui Schools' Science & Engineering Fair on Feb. 6, ensuring her spot at the Intel International Science and Engineering Fair in Los Angles this May. Sarah's project is called Hot Biology and explores the use of thermal imaging to detect nesting behaviors of an endangered native bird, the Hawaiian Coot.
Below are results of Molokai students who will be attending the State Science and Engineering Fair at the Hawaii Convention Center March 31 through April 2, as well as honorable mentions and special awards earned by Molokai students. Mahalo to Heidi Jenkins for providing the results.
Merit Award – Hawaii State Science and Engineering Fair Finalists
2nd Place
Sarah Jenkins, Grade 11, Molokai High School
Project:  Hot Biology – Use of Thermal Imaging to Detect Nesting Behaviors of the Endangered Hawaiian Coot (Fulica alai)
3rd Place
Lily Jenkins, Grade 9, Molokai High School
Project:  Ecological Effects of Non-Native Vegetation On Man-Made Canal in Puko'o, Molokai
5th Place
Genevieve Kikukawa, Grade 8, Molokai Middle School
Project:  Ground Cover Impact On Wind Erosion, Soil Cultivability, and Insect Population
7th Place
Evelyn Haase, Grade 7, Molokai Middle School
Project:  Ocean Acidification:  Comparing Ocean pH, Rural vs. Urban Coastal Areas
10th Place
Caulin Nelson-Angelsea, Grade 12 & Luke Kikukawa, Grade 11, Molokai High School
Project: Photosynthetic Pigments
Honorable Mention
Cendall Manley, Grade 10, Molokai High School
Project:  Lend a Helping Hand
Kilo Ka'awa Gonzales  and Shellamarie Keahi, Grade 12, Molokai High School
Project:  Bioremeditation Using Vetiver Grass
Sabrina Curtis, Grade 10, Molokai High School
Project: Rooting for a Cleaner Enviroment: Vetiver Grass vs Lemon Grass
Kea'aokahonua Davis, Grade 10,  Molokai High School
Project: Keirsey Temperments: Type Distribution of Teachers
Sponsor Awards
Maui Electric
Dathan Decker-Lee Bicoy, Grade 9, Molokai High School
Project:  Soak Up the Sun
Monsanto
Caulin Nelson-Angelsea, Grade 12 & Luke Kikukawa, Grade 11, Molokai High School
Masonic Lodge
Evelyn Haase, Grade 8, Molokai Middle School
Organization Awards
American Psychological Association
Lily Jenkins, Grade 9, Molokai High School
ASM Materials Education Foundation
Edel Mae Alvarez, Grade 11 and Edel Mark Alvarez, Grade 9, Molokai High School
Project:  Okra vs. Aloe Vera
Association for Women Geoscientists
Evelyn Haase, Grade 7, Molokai Middle School
RICOH
Sarah Jenkins, Grade 11, Molokai High School
Stockholm Junior Water Prize
Lily Jenkins, Grade 9, Molokai High School
Surgeon General's Special Award Certificate
Cendall Manley, Grade 10, Molokai High School