Molokai Says Goodbye to Island Air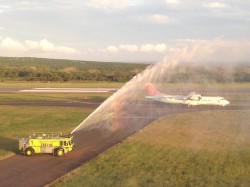 On April 1, Island Air took off from Molokai for the last time after the company announced last month that it would end its service to the island. Terry Cole is an air traffic controller on Molokai and snapped this shot from the tower.
"There were quite a few cars parked on the hill waving goodbye, and the pilot expressed his sadness about not coming back," she said.
Island Air CEO Paul Casey told the Dispatch that the company waited until it was "sure that the residents of Molokai had adequate service" before deciding to "redeploy our aircraft to another route that needs more capacity."
Island Air had eight full-time and seven part-time employees based on Molokai, the longest of whom has worked for the company more than 25 years, according to Casey.
Pictured here, the fire truck stationed at the Molokai airport gave a misty salute as the final Island Air flight taxied for takeoff from Molokai.
"The fire hose sendoff is often used in aviation for 'final' events — most often a farewell to pilots on their last flight," said Cole.