Molokai's Affordable Housing to Expand
Molokai Habitat for Humanity News Release, with Artice Swingle and John Wordin
Emillia Noordhoek recently attended the annual advocacy conference for Habitat for Humanity International, 'Habitat on the Hill,' in Washington D.C. At this important conference, training is given on advocating regarding issues dealing with affordable housing. Post-conference interviews allowed Noordhoek to advocate for affordable housing on Molokai with Senator Daniel Inouye and Representative Mazie Hirono.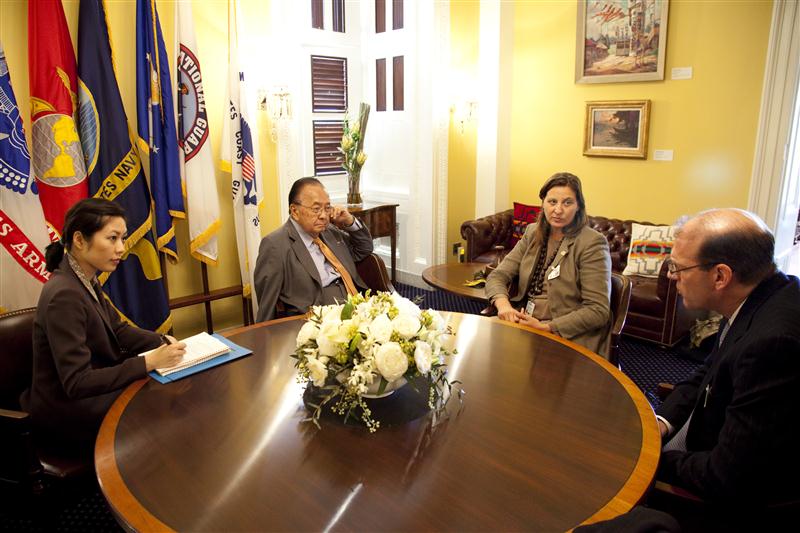 Issues concerning Federal dollars allocated to affordable housing and mortgage regulation related to the SAFE Act have a direct bearing on the operation of Molokai Habitat for Humanity. Noordhoek was able to present a clear picture of the needs of the community to our lawmakers who were very receptive and helped to stress the importance of continued funding and support.
Molokai Habitat for Humanity is expanding its operation to support both affordable housing on Hawaiian Homelands and other properties as well. Critical to this expansion is tapping into federal programs which will support this effort. Sustainable building and achieving high level efficiency in terms of energy use is key in working toward a sustainable Molokai. Noordhoek's contact will be critical in uncovering and maintaining federal funding for our community.
Supporting Molokai's position in the conference with Inouye was Jonathan Reckford, CEO for Habitat of Humanity International. Inouye as Housing Appropriations Committee is critical to the success of Habitat for Humanity and continued funding for affordable housing.
Hirono's support was welcomed. Suggestion was made that we request funds from Housing L.A. which funds affordable housing projects. This will be Noordhoek's challenge upon returning to Molokai.
As community members concerned with providing affordable energy efficient housing for all qualified applicants, we are indeed delighted that Noordhoek had this opportunity to represent Molokai and her needs.