Molokai Robotics Earn Statewide Awards
Hawaii Space Grant Consortium News Release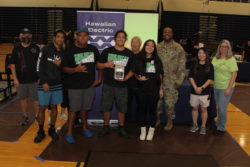 Molokai High School was one of 50 Hawaii VEX robotics teams that competed at the Hawaii VEX Robotics Middle and High School State Championships, held on February 19-20 at Kamehameha Schools – Kapālama, sponsored by Hawaiian Electric. Eight of the 50 teams will advance to the 2023 VEX Robotics World Championships.
Though Molokai did not qualify for worlds, a Molokai team captured the Robot Skills second Place Award and Energy Award at the Middle School Championship, and a second Molokai High team took the Sportsmanship Award at the High School Championship.
Hawaii middle and high school robotics teams will showcase their game strategy, design and teamwork skills for an opportunity to be crowned world champions at the global event to be held April 25 to May 4 in Dallas, Texas.
VEX Robotics is an educational robotics program that inspires students to excel in STEM principles while encouraging creativity, teamwork, leadership and problem solving among groups. This season, there were 250 registered teams from Hawaii and over 900 students involved in VEX.
Robotics competitions foster these skills and prepare students to become future innovators as well as increase their interest in pursuing STEM careers. Tournaments are held year-round at the regional, state and national levels, and culminate in the VEX Robotics World Championship. There are approximately 20,000 teams from 45 countries participating in VEX tournaments.
Locally, the Hawaii Space Grant Consortium (HSGC) oversees the Hawaii VEX Robotics Competitions with funding through the University of Hawaii Foundation. Expanded opportunities for space education through the efforts of the Hawaii Space Grant Consortium have been focused on the public, particularly teachers and students in grades kindergarten through twelve. HSGC offers various remote and in-person trainings and workshops for coaches, teachers, and students, developing a robotics curriculum for STEM/robotics classes, and mentored teachers and students in rookie robotics programs.