Molokai Resident Named 'Outstanding Older American'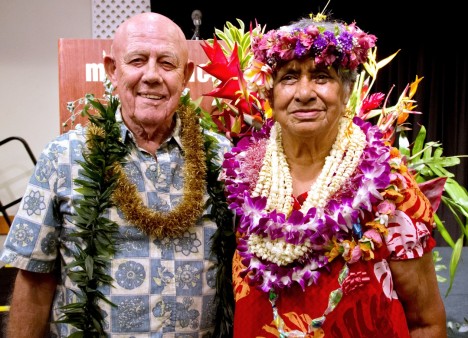 County of Maui News Release
Eighty-three-year-old Molokai volunteer Kanee Wright was named one of two winners of the Maui County Office on Aging Outstanding Older American Awards. Wright and Maui's 84-year-old Fred Ruge were honored at the 46th annual awards ceremony on May 6 at the Maui Beach Hotel. The two were chosen out of 10 nominees.
Wright is a volunteer at Hale Maha`olu's Home Pumehana site in Kaunakakai, Molokai. She loves to help and lives up to her middle name of "Happy," bringing a smile with her everywhere she goes. She loves to keep busy by cleaning Home Pumehana's windows, screens, tables and chairs, as well as running errands for the kitchen, office and maintenance shop, and delivering parcels when she is not on the road delivering nutritious meals to the Friendly Isle's frail, homebound seniors.
Ruge has the spring of youth in his devotion to help veterans of Maui through his leadership, fundraising, transportation to appointments and guidance through the challenging path to VA benefits. His accomplishments are notable: Korean War Combat Vet, lobbying to expand Makawao Veterans Cemetery, helping create jobs for returning Afghan vets, preventing veterans' suicides, extending his helping hand to the homeless, and helping the poor as a Salvation Army holiday bell ringer.
Each May, the nation celebrates Older Americans Month to recognize older Americans for their contributions and provide them with information to help them stay healthy and active. This year's theme, "Safe Today. Healthy Tomorrow," highlights injury prevention. Older adults are at a much higher risk of unintentional injury and even death than the rest of the population. Unintentional injuries to this population result in millions of medically treated injuries and more than 30,000 deaths every year. With a focus on safety during Older Americans Month, the Administration for Community Living plans to use this opportunity to raise awareness on how older Americans can live longer, healthier lives.
Judges for this year's awards were Audrey Rocha Reed, Director of Heritage Hall; Ronna Patty, PHN; Cesar Gaxiola, Executive Director of the Cameron Center; Scott Seto, Executive Director of Adult and Community Care branch of the Department of Human Services; and Sandy Freeman, Executive Director, Maui Adult Day Care Centers.
For more information on the awards program, contact Jan Roberson at 270-8221.