Molokai Protects Its Reef
Community Contributed
By Walter Ritte
"I felt like I was cleaning the rubbish off the reef," said Dicky Dowling, who speared 46 roi for first place honors in last weekend's Molokai Roi Tournament. The roi fish is an invasive species introduced 55 years ago by the state, and is now the most dominant inshore predator in Hawaii. Roi is known for eating the young juveniles of our native species, some 99 tons of fish a year in Hawaii.
The goal of the Molokai Roi Tournament held on April 16 was the eradication of the invasive roi. Fourteen teams and some 70 participants came out. Everyone knows we are losing our fish populations on our reefs for many reasons, and it was great to see those with the traditional diving skills come together to protect the reef. There were the young and the old, the men and the women all coming together passing on knowledge, eating, drinking, and listening to Six Pak play ono music.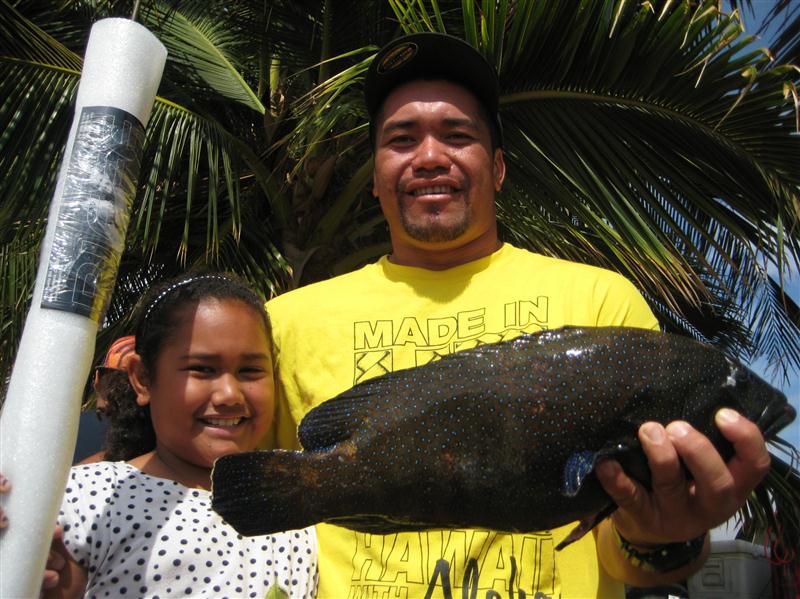 Our kuleana to our future generations is to protect all of our natural resources, so no matter how bad the economy gets or if the barges stop coming, we will be able to survive. It was a great tournament – mahalo Black Dudoit, Walter Naki, Kevin Misaki, Bill Castor and Karen Holt and the many great divers for cleaning up our reef.
Here are the official results of the tournament:
Largest Individual Roi:
1st Place: Eke Lima 4.36 lb.
2nd Place: Jeremiah Keohuloa 3.98 lb.
3rd Place: Pernell Mondoy 3.96 lb.
Smallest Individual Roi:
1st Place Tie: Nick Hiro .23 oz.
Naomi Bicoy .23 oz.
2nd Place: Kenny Kansana .25 oz.
Most Roi Caught by Individuals:
1st Place: Dickie Dowling 46 roi
2nd Place: Kimo Naki 39 roi
3rd Place: Pernell Mondoy 28 roi
Most Roi Caught by Teams:
1st Place: Rawlins `Ohana 97 roi
2nd Place: Mana`e Canoe Club 66 roi
3rd Place: Kia`i 64 roi
Largest Individual Roi Caught by Women:
1st Place: Kimi Werner 2.91 lb.
2nd Place: Ipo Moses 2.60 lb.
3rd Place: Kia`i 2.13 lb.