Molokai in Poetry
Susan Gerard-Schelinski has been composing poetry for years, but never had her writing published. She had always wanted to print a collection for famlily and friends, so she decided to do it herself.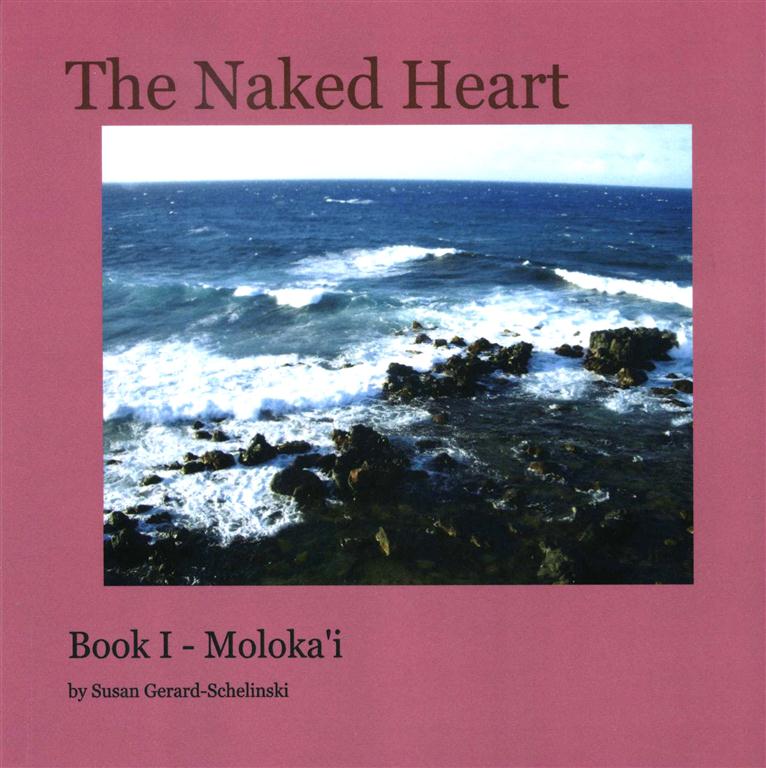 "Recently, a gal from Montreal stayed at our home and suggested a website called blurb.com that publishes books," said Gerard-Schelinski. "It was perfect."
Through the website, she printed a poetry book called "The Naked Heart." It's a collection of Gerard-Schelinski's poems about Molokai, paired with photos she's taken of the island.
Describing the book as "word sketches that sum up life on Molokai," Gerard-Schelinski said her poetry touches on a variety of topics that anyone who has lived on the island could relate to.
She sells the books locally at Hotel Molokai on Friday nights and occasionally at the Saturday market in town. She said she's already sold about half of the 40 books she had printed.
Gerard-Schelinski currently prices "The Naked Heart" at $20 – a price she admits is high, but is "the price of a 12-pack of beer." She recommends blurb.com to anyone who wants to print their own book, but because it's a costly option, she added that she is looking for another publisher so she can sell her book more cheaply.
Contact Gerard-Schelinski at 552-0176 if you would like to buy a copy of "The Naked Heart." She said she would like to connect with anyone interested in starting a publishing group.
Questionable Claims
By Susan Gerard-Schelinski
I'm English, but I've never lived in England.
I'm a Scot who loves a Scottish aire.
My roots claim the Black Forest of Germany
And yet, I've never lived there.
When I hear a fiddle, a jig or a reel,
There's no doubt I'm Irish from head to each heel.
I'm French though I've never set one foot in France.
I've heard I'm part gypsy. How I love to dance!
By name and by marriage, I'm Polish 'tis plain
Though, no drops of Polish blood run through each vein.
I was born in the U.S. of immigrant stock,
Then, lived in Hawaii. Hawaiian I'm not.
But, one of my kids married into the koko.
That made me a "Tutu", a local gone loco.
My grandson's part Portugee, a fisherman too!
I guess if I stretch it, I'm Portuguese too!
One son married Chinese. His kids are Pake
Another wed in Japan and celebrates with sake.
I've a great granddaughter from Taiwan
I've one from the Philippines.
Who knows to where our line will go with this next set of teens.
We've kids in Australia already, and know
We cannot control where our bloodline will flow.
Our language has somehow evolved into pidgin
No take one big brain or one fancy religion
To know if grandma and poppa had been "fridgus",
None of us kids could be now called "indigenous".
Danish, Norwegians, Russians and Swedes,
Fins and Popolos have all mixed their seeds,
Till we're all just a mish mash, mongrels and such,
As if the whole world, were one big rabbit hutch.
We're brothers and sisters of one common Father.
This "racism business" just don't hold much water!