Molokai Pharmacist Receives Award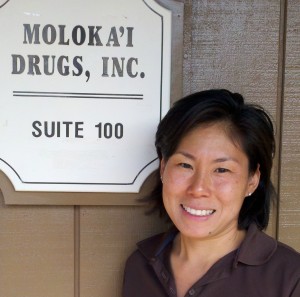 Molokai Drugs Pharmacist Kelly Go was honored in a state-wide award for outstanding community service from the Hawaii Pharmacists Association. She was named the recipient of the 2012 Bowl of Hygeia Award — one of the profession's most prestigious awards — which honors one pharmacist from each state annually.
"It's an honor to be chosen for this year's award representing Hawaii," said Go. "I'm blessed to be in a community I grew up in and can now serve in this capacity."
"She was nominated by one of the pharmaceutical representatives [on Oahu] who heard about what Molokai Drugs has done and is doing on Molokai, including Kelly's role in making sure that there are resources for our community," said Go's father and fellow Molokai Drugs pharmacist, David Mikami in a letter to store staff.
Go has been instrumental in the pharmacy's outreach to better serve residents. Molokai Drugs collaborates with other island health care providers to offer island-wide flu clinics annually. The pharmacy is the only full service provider on Molokai of Durable Medical Equipment, such as rental hospital beds, wheelchairs and crutches. They are also the only nationally accredited diabetes education programs on Molokai, as well the contractor for providing medications to both the Molokai and Lanai community health centers.
"The services we provide are possible because of the staff we have, as well as my dad [David Mikami] and uncle [Jon Mikami, Molokai Drugs' third pharmacist]," said Go.
In addition to her job as a pharmacist in her family's drug store, Go has volunteered her time in the community in various capacities, including Kaunakakai Elementary School Community Council, and serves as board member of the Molokai Health Foundation.
Having grown up on Molokai, Go graduated from Drake University in 1995, when she became a licensed pharmacist. She worked on Oahu until 2003, then moved back to Molokai to work in her family's business. Go says since her return, she has helped to introduce the use of more technology into the operation, such as an automated robotics system to count and dispense pills.
Go said going above and beyond your job as a pharmacist is something that happens more often in small communities. "I'm grateful that they recognized the neighbor islands," she said.
David Mikami, was also selected for the same award about 20 years ago.
The Bowl of Hygeia is the most widely recognized international symbol for the pharmacy profession; the bowl represents a medicinal potion and the snake represents healing, according to a press release from the American Pharmacists Association. The award is sponsored by the American Pharmacists Association Foundation and the National Alliance of State Pharmacy Associations, with support from Boehringer Ingelheim Pharmaceuticals.