Molokai Paintball Club Joins Statewide Event
Community Contributed
By Fred Aki and Michael Onofrio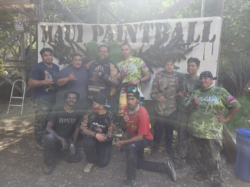 Molokai's Paintball Club, led by Fred Aki, joined the Hawaiian Legend 3 held by CPX events at the Maui Paintball field in Olowalu for the third year. Hawaiian Legend is the largest paintball event in Hawaii, with more than 200 players this year. Hawaiian Legends is a Blue versus Red open play scenario based paintball game, where players on either side battle to control a section of the field by hitting a slap stick marked blue or red, running missions, and collect supplies and material to help their team.
Joining the Red team, Molokai brought nine players, playing alongside other teams from the neighbor islands and from other states. They came in full force to represent Molokai, even though for many, this was their first time being at a CPX event.
The event opened with registration, paintball gun checks, and a safety briefing. The morning's introductions included Fred to talk about what he does with the youth on Molokai. He was presented with a brand new paintball gun to use in competition, in what Fred could only describe as an unreal blessing.
Then the teams were sent out. The blue team took the hill side, and the red team took the ocean side of the field. Molokai and the team Red players had to work hard to dig themselves out to retake the field. Fred's greatest moment was looking down for the center tower and seeing Molokai players up in the frontline holding it down, communicating with other teams, and running missions. It was awesome watching our players representing Molokai and playing with aloha.
But it's not all just about paintball; the CPX event like Hawaiian Legends 3 brings players from all over the world, and in all walks of life to Maui to play together in an epic two-day battle. Where else can you play side by side with clowns and a guy in a teddy bear on the same day? It's really about the players and the memories we shared.
Molokai Paintball Clubs reps were Fred Aki (JrPoi 808), Hawi Montemayor (Shadow), Alicia Montemayor (Pomaikai), John K Poaha III (Pineapple), Thompson Faberito (Da Bodyguard), Mahiai Lopez (Bumbye), Joshua Hatchet (Smiles), Kaua Kaili (Snippa) and Meison Duke Rapanot (Munchies).
Molokai Paintball Club was started in 2019 by Fred, with the help of club members and residents. They are dedicated to building a paintball field on the island in their free time, and they continue development of the paintball field and the passion to positively affect the lives of others around them. Their vision is to provide a safe place for players whose love for the sport whether it's paintball or airsoft, to give pride in being a part of a team, respect, culture, sportsmanship, opportunities and safety precautions.
If you would like to know more about Molokai Paintball Club, contact Fred or any one of the members, or join us on Facebook @Molokai Paintball Club. If you would like to book a party or group, please contact Suliana Aki on Facebook. They would like to say thank you to everyone one that helps to make it all possible, aloha!