Molokai Native Gains Air Force Recognition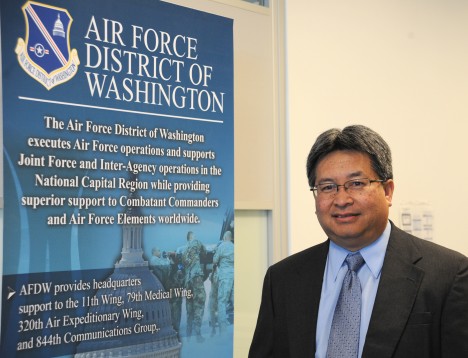 Community Contributed
By Capt. Renee Lee, Air Force District of Washington Public Affairs
Hailing from Ho`olehua, Molokai, James Low never imagined that he would live and travel around the world, and eventually settle nearly 5,000 miles away from home. Today, Low and his family reside in Dover, Delaware, where they have called home for nearly 10 years. There, he works as Air Force District of Washington (AFDW) Air and Space Expeditionary Force Cell Chief and was recognized as an AFDW Capital Airman in April.
Growing up on a farm, Low enjoyed a quiet, laidback life that involved frequent visits to the beach, playing basketball and baseball with friends, and going to church with his family.
"It was great to always be surrounded by family," he said.
Low left Molokai after finishing sixth grade to attend Kamehameha Schools in Honolulu, graduating in 1979. Low took a few classes at the Windward Community College on Oahu and worked at a car dealership in Honolulu. One day, a friend who had recently joined the Army talked to Low about the military.
"The thought of leaving Hawaii never crossed my mind," Low said. "My friend talked to me about the Army and he told me about the Air Force as well. I decided that joining the Air Force was the way to go and joined a few weeks later. That was a little over 34 years ago."
Soon after basic training, Low was designated as a fighter aircraft mechanic and found himself in Michigan at K. I. Sawyer Air Force Base — which is now decommissioned — where he saw snow for the first time.
He continued on to Hickam AFB, Hawaii and served at other bases around the U.S. and in the United Kingdom. Fourteen years after working as a fighter aircraft mechanic, Low changed his Air Force career field to logistics plans. He served for the next 10 years at at Spangdalem and Ramstein Air Bases in Germany and finally at Dover AFB, Delaware.
Since retiring from the military, Low has continued to serve the Air Force in a civilian capacity. He worked at the Air Force Operational Readiness Center in the Pentagon, and now as the chief of AFDW's Air and Space Expeditionary Force Cell, Low is responsible for verifying and validating deployments, including contingencies and military exercises of AFDW forces. This includes supporting the Office of the Secretary of Defense and Headquarters, U.S. Air Force.
During his 24-year active military service and as a civilian, Low has been recognized for his outstanding efforts. In 1999, Low was recognized as the Logistics Plans Superintendent of the Year, beating all other candidates from the entire Air Force. In 2001, Low received the same recognition for Allied Command Europe. In 2011, he was named the Plans and Readiness Directorate Category III Civilian of the Year for AFDW Operations, and in 2012, was honored as the AFDW Category III Civilian of the Year.
Soon, Low will be recognized for another achievement: earning his Bachelor of Science in organizational management.
This summer, Low's younger daughter will graduate from high school, bringing family members and friends all the way from the islands to the East Coast, with local food in tow. Low, who has not visited home since 2012, hopes to make it home soon.
"Having been away for so long, it's always great to see family when I go home, and nothing beats the food," he said, speaking fondly of Portuguese sausage, eggs and rice. "Nothing is fast on Molokai. That's how I remember it and it's what I look forward to when I go home."