Molokai Mom on a Mission: Raising Awareness, Inspiring Change
Community Contributed
Opinion by Mercy Ritte
On Wednesday, Jan. 16, a unified group of charter school students and teachers, environmentalist, conservationalist, Hawaiian rights activists, people of all ethnic backgrounds, and families trekked a three mile march, from Buckman Hall on the University of Hawaii campus to the State Capital, in an effort to push for labeling GMO foods.
According to the Center for Food Safety, "it has been estimated that 70 percent of processed foods on supermarket shelves–from soda to soup, crackers to condiments–contain genetically engineered ingredients." Studies have also revealed, over the past decade, that GMO foods can pose serious risks to humans, animal life and the environment.
Public presentations were also held on Oahu and Kauai regarding GMOs, biotechnology seed experiments in Hawaii, and industrial farming, led by three phenomenal individuals. They were world renowned environmental activist and India native Vandana Shiva, leading environmental lawyer in the U.S. and Executive Director of the Center for Food Safety Andrew Kimbrell, and grassroots activitist and advocate for aloha `aina Walter Ritte.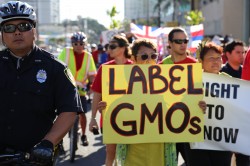 Food justice, sustainable agriculture, preserving biodiversity, and unity among all people were emphasized throughout each evening. However, the simple yet powerful statement "don't just eat food, grow food" resonated with me the most. The reality is that we need to grow food, today! Also, just as it takes action to cultivate the land, we must also put action behind our words. It is not enough to know about the injustice taking place against our environment and community; it is the doing something about it that adds worth and will inspire change!
If you are in support of a GMO free Molokai, Hawaii, nation, and world here are several ways to take immediate action.
Support Labeling GMOs:
Fortunately, this year, a bill is being introduced to the legislature to label GMO foods in Hawaii. Personal testimonies for GMO labeling are crucial. Submit a written statement on why GMOs should be labeled and any concerns you may have to info@molokaimom.com.
Oppose GE Salmon:
On December 21, 2012 the U.S. Food and Drug Administration (FDA) released an Environmental Assessment stating that genetically engineered (GE) salmon poses no significant impact to the environment and is safe for human consumption. For many, this raises much concern. To urge the FDA not to approve GE salmon visit centerforfoodsafety.org/ and sign the petition.
GMO Free Recipe:
Banana Bread (source: 7 Secrets Cookbook)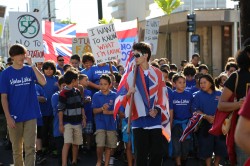 Ingredients:
1-cup whole-wheat flour
½ cup unbleached white flour
¾ teaspoon salt
1 tablespoon aluminum free baking powder (Outpost)
1/3 cup chopped walnuts
½ cup coconut milk
1/3-cup honey
½ cup mashed ripe banana
Directions:
1. Mix dry ingredients in a medium-sized bowl. Add walnuts.
2. Mix remaining ingredients in a 2-cup measuring cup and add water if needed to equal 1 cup of liquid.
3. Briskly stir liquid into dry ingredients, pour into an oiled (olive, grape seed or coconut oil) loaf pan. Bake at 350 degrees F for about 40-45 minutes, or until fork inserted in center comes out clean.