Molokai-Made at Merrie Monarch
Visitors flowed in and out of last week's 48th annual Merrie Monarch hula fest in Hilo, Hawaii Island, exploring the ancient art of hula and showcasing the state's best dancers. At an event where tradition mixes with a mercantile mart, local shoppers and visitors alike are able to see and buy unique, home-made Native Hawaiian crafts.
Several Molokai crafters were on-hand, selling delicate jewelry and sustainably-made clothing among many other items. The Dispatch talked with Valerie Dudoit-Temahaga of ` Ohana Creations, Ameron and Haunani Madela of Lokikai o Molokai, and Jaime, Ane and Hina of Kealopiko.
MD: What brings you to Merrie Monarch each year? Is it difficult?
Ohana Creations: Coming to Merrie Monarch is more like a vacation to get away and being around the people and seeing the different crafts and getting ideas.
Kealopiko: It costs a lot to get here – shipping, freight and flight costs are ridiculous. (Ane) feels the nice thing about this fair is that the cost is more reasonable for us.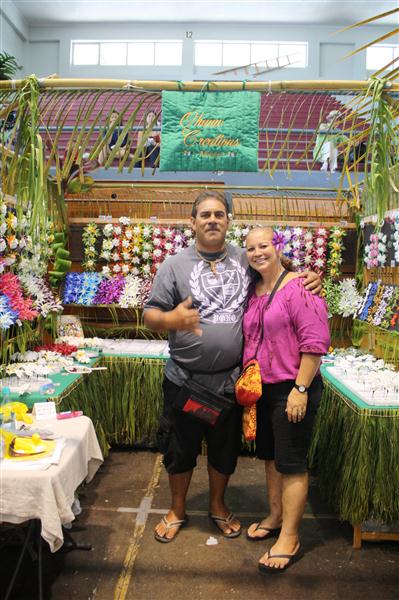 Ohana Creations: Over 10 years ago I was amazed by the talent of the crafters at the Merrie Monarch Craft Show. One particular craft that inspired me was flowers made of Fimo Clay. My journey of creations using clay started. I first worked with Fimo Clay; as I progressed, I was introduced to Deco and Hearty Air Dry Clay which is what I now use. By going out and selling whatever it was that I had made, word got around and soon people were asking for my business card. Next came invitations to craft shows.

Thanks to Kanoe Davis for the interviews at Merrie Monarch.