Molokai LEOs Recognized for Commitment of Service
The Molokai High LEO Club has won first place in the state in the Small LEO Club category for 2009-2010. This is the first time the MHS LEO club has received this recognition. LEO Club stands for Leadership, Experience, Opportunity, and is a youth division of the International Lion's Club. The criteria the board considered was amount of community services done, the quality of the projects, and the amount of participation in state LEO committees. This year the MHS LEO Club's theme was "LEOs standing not behind you or in front of you but by your side." The MHS LEO club focused on starting a recycling program at the high school. Congratulations to the following members: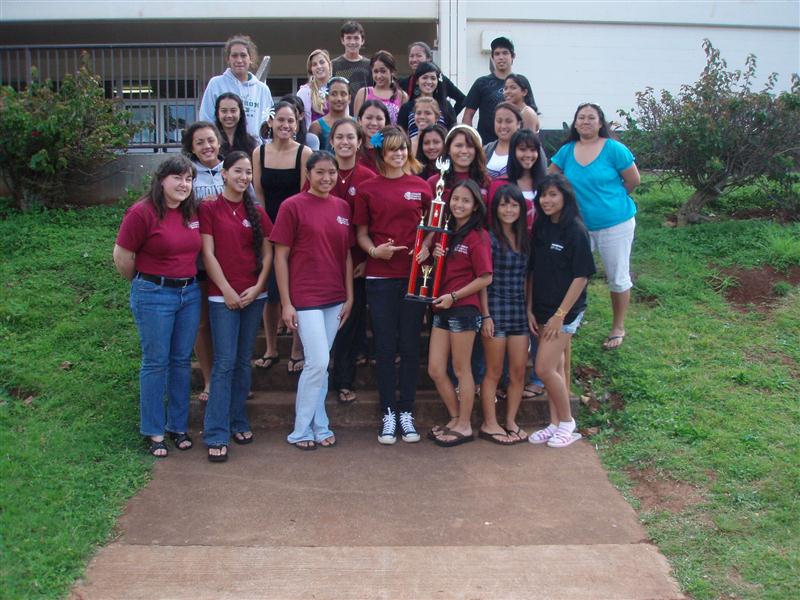 Abigail Adachi, Akona Adolpho, Abbigale Adolpho, Isreal Adolpho, Chenoa Ahuna-Kaai, Petrisha Alvarez, Herbert Antolin, Crystalene Antonio, Dohna Bicoy, Camille Borden, Rebecca Carpenter, Christina Carpenter, Jamie Duvachelle, Lesley Escobar, Francine Feig, David Gomes, Durand Jones, Katherine Kendall, Michael Kikukawa, Charisse Manley, Healani Mawae Mollena, Kerianne Mokuau, Melody Ocampo, Mike Onofrio, Candice Pauole, Crystal Puaoi-Kawai, Kawena Puhi, Cristina Rabino, Mahailia Rapanot-McGuire, Kesha Reyes, Denichel Ruiz, Darianne Ruiz, Susan Smith, Michal Torres-Umi, Louisa Torres-Umi, Kalani Wainwright, Tarren Wakuta, Aloha Will, Joe Yamamoto.
Julie De George and Malia Lee, Club Advisors.