Molokai Inspired Art by MAC's Artist in Residence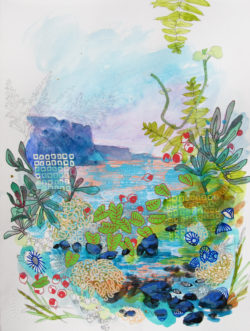 MAC News Release
The Molokai Arts Center would like to invite you to review the release of Jamie Allen's original artwork that she created during her three-week Artist in Residence program through the Molokai Arts Center. Allen carried out her residency in May of 2019 and is now sharing her diaristic works of paper. Her goals for her residency was to document native plants and experience the island of Molokai. She worked closely with the Molokai Land Trust, spent a night at Kalaupapa, hiked Kamakou, and drew at Mo'omomi and the gardens at the Hui Ho'olana. For Jamie, Molokai has been the example of peace and pausing these days.
To preview the series please check out haleleagallery.com and/or her Instagram: @jamierallenstudio. All sales will go through Halele'a Gallery which is located on Kauai.
From the sales of these 12 works (which are 15 x 11 inches in size), Jamie will donate a portion to the Molokai Arts Center, Molokai Land Trust, Nature Conservancy of Molokai and Kalaupapa National Historical Park.