Molokai in Business: Kainanea Designs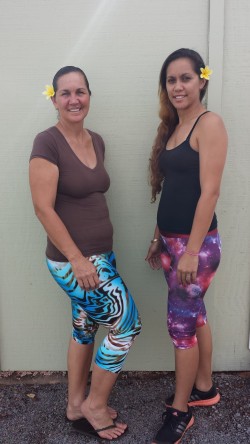 Community Contributed
By:  Jennifer Hawkins
Happy New Year Molokai!  This week's Molokai in Business article focuses on a new year for an old business.  Yes, sometimes we simply take a break from things to raise our children and then they are the very ones who bring us full circle.
What: Ocean Active Sports Wear made with "Hawaiian Hands", on "Hawaiian Lands".
Who: Tania Kaholoaa and daughters Kahiau Lima and Pualei Lima
When: By appointment only.  Just call or email to set up an appointment.
Where: Art from the Heart, craft fairs, open market, and paddling events
How: Kainaneadesigns@gmail.com / (808)-646-0455
Question: What do you do and how long have you been doing it?
Answer:  I, along with my two daughters, run Kainanea Designs, an ocean active sportswear business here on Molokai.  In 1986, I started to sew bathing suits for my own children.  Word got out and I started making for friends and family.  In the late 80's I catered to plus size women.  Fabric got so expensive that I cut back and just made for my kids.
Throughout the years I've run into people who bought from me before and would ask "when are you going to make again, my suits are getting old?"
Last year, after being at college and seeing the demand on Oahu for bikinis, Pualei kept pushing me to start back.  She was seeing the trends and what people were willing to pay.  "People are willing to pay!"  Tania interjected.
Both daughters were supportive and home, so in 2013 we kicked off our business, catering to paddlers.  "Capris started in the late 80's, they just never became popular, but in July 2013 they were in high demand," says owner Tania Kaholoaa.  Clubs were even calling for team sets.
Question:  What training or education did you need?
Answer:  No formal training.  I learned to sew old school.  " My gramma used to sew mom's clothes, and mom used to sew.  I was always around the machine, but nothing like this," shared Tania.  In the 80's a friend on Maui taught me to sew bathing suits.  I learned by trial and error.  "Everytime you make a booboo, you get better," declared Tania.
Question:  How did you launch your business?
Answer:  "I took the MEO Core Four class, but after I had started my business.  I learned that I had done some things that I wasn't ready to do and had to take a step back, research my competition, where to order, financing, and advertising.  I had to make corrections as I learned."
"In 2013, we set up a booth at two paddling events and did really well; from there, people kept coming back for more.  My daughters also post on Facebook when we are going to be out selling and that really helps."
Question:  What's your advice for someone who wants to start a business on Molokai?
Answer:  "They have to go to Kuulei's (Arce) MEO Core Four Business Class.  It is the bomb!" Tania shares, while adding, "That way you don't have to make the mistakes first."    "It made one think byond what I was thinking.  It helped me to make long term goals and ways to reach those goals.  I learned that you have to do some homework before just launching your business.  You NEED a plan."
Final words:  
"If you have a dream, go for it!  Don't be afraid to take a chance.  I always wanted to do this, but was scared and didn't want to fail.  The material was expensive so it was hard to invest the time and money, but without a storefront and employees, I didn't have overhead.  Now it depends on me to determine how bad I want to be successful! "
Tania shares, "Now that Christmas is over we are looking at expanding our line which includes wears for both men and women.    On Molokai, our products are currently at Art from the Heart.  We also sell at craft fairs, open markets- occasionally making the Saturday Market, and at paddling events.  Recently we had two shops in Kauai asking to carry our product as well as have been shipping to Maui.  We're also on Facebook and Instagram.
Note: Tania Kaholoaa is the main seamstress-she does all the sewing old school, while maintaining a full time job as an in home nurse and coaching the high school paddling team.  Daughters Kahiau Lima and Pualei Lima are a big part of the business taking care of the advertising, ordering, and cashiering.  Kahiau lives here on Molokai also working a full time job in addition to helping Mom, while Pualei is attending UH Manoa and helps from Oahu.  Now her 24 year old son is interested in coming home and joining the business.  With a smile on her face, Tania adds, "He has lots of ideas and is excited!"
If you have a business you would like to see highlighted in the Molokai in Business column, email Jennifer Hawkins at Jennifer.hawkins@co.maui.hi.us or Jeannine Rossa at jeanninerossa@gmail.com.