Molokai in Business:  Epik Style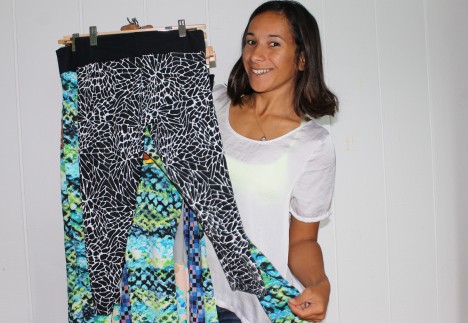 Community Contributed
By Jennifer Hawkins
The Molokai in Business series focuses on local businesses, both old and new.  It is our way of helping you get to know your local businesses.  Our intent is to support our local businesses, help people who want to start a business, and tell a good story.
What:  [Ep-ik] Style, active-wear for ocean, running and lounging
Who:  Sydney Kalipi
When:  By appointment
Where:  Etsy website and Instagram @epikstylehi
How:  Call 658-0175 or email epikstylehi@gmail.com
Question:  What do you do and how long have you been doing it?
Answer:  I create handmade active wear for women.  I started sewing bikinis at home for fun, then later I wanted to pursue sewing and attended UH Maui College on Maui. I then enrolled into the Fashion Technology Program where I received an AAS in Fashion Technology.  While in college, I was involved in paddling and other water sports, which is where I started sewing pants using patterned fabrics staying away from using plain black.  Thereafter I wanted to turn my handmade garments into a business. I started my business and my first customer was a model, who modeled for the UH Maui fashion events.  She modeled the first pair I made and loved them so much she bought them.  I've been doing this for three years.
Q:  What training or education did you need?
A:  I attended the Core Four Business Class at MEO before going to college. I taught myself to sew basic sewing techniques. Through UH Maui's Fashion Technology Program, I obtained more detailed sewing techniques as well as other design processes.
Q:  How did you launch your business?
A:   I launched my business through social media and attending events on Oahu.  My first outlet was when I made bright colored mermaid scale pants for my teammates of Wa`akapaemua (#teamboomskie) for the states race on Kauai and from there, [Ep-ik] Style took off.
Q:  What's your advice for someone who wants to start a business in Molokai?
A:  Just do it!  It gets a little intense at times, but you have to stick with it.  You need to believe in what you want to do.
Final Words:  For me, I love creating using funky, stretchy fabric being that it is very forgiving.  Hot items right now are capri pants, rash guards and the full body suit.  I hope to add regular clothing later.
If you have a business you would like to see highlighted in the Molokai in Business column, email Jennifer Hawkins at Jennifer.hawkins@co.maui.hi.us or Jeannine Rossa at jeanninerossa@gmail.com.