Molokai Improves Record
Girls' baskeball conquers MIL
The Lady Farmers basketball team continues to defeat all their opponents. Over their winter break, they traveled to Lanai and Maui for matchups – both proving successful.
They topped Lanai 58-15 on Dec. 28, with Kalei Adolpho scoring 27 points. The Lady Lanai scored 13 percent of their shots in the second half, with only four points.
The next day they beat Lanai with a score of 51-18. Adolpho had 32 points, and Molokai's defense let Lanai score 11 percent of their shots.
"It was a great team effort. In order for Adolpho to get the ball, the guards have to make a really nice pass," said Kevan Dudoit, volunteer coach.
Molokai played Kamehameha Maui on Dec. 30, defeating Kamehameha 48-14.
"They put a lot of time and work into practice. And it shows. They play with their hearts and souls," Dudoit said.
Senior Day
More recently, the Lady Farmers basketball team had their first and only home games last weekend against the Seabury Hall Spartans. The seniors, Kaira Kaulia-Makaiwi, Kyli Joe Mawae, and Kalei Adolpho led their team to an emotional win.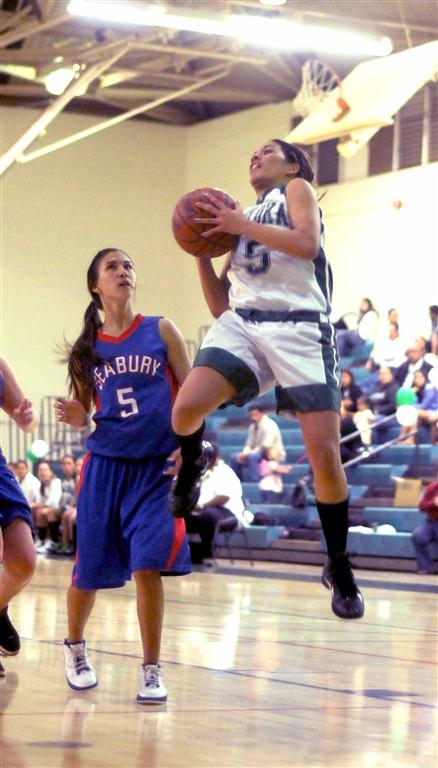 The game got off to a slow start last Friday night. The girls were plagued by fouls, missed shots and turnovers in the first half, scoring 20 points and allowing 12. Kalei Vaivai went down a badly sprained knee towards the end of the first half. She was out for the game after that.
Seabury's Trina Valencia proved to be a threat. She was having her way with Farmer's defense at first and scoring layup after layup.
Molokai came out much stronger on both sides of the ball in the second half of the game.
They scored 31 points in the second half and only allowed 15 from Seabury – final score 51-27. Adolpho and Mawae had 20 points each.
"We just tried to do too much in the first half," said assistant coach Mike Hooper. "But they found a way to run the ball up and down the court. They also did a great job of putting pressure on the defense."
They played a much cleaner and faster game on Saturday. The offense got off to a great start, but Seabury Hall was able to hold on slightly with the help of their versatile point guard, Valencia. She ended the game with 22 points.
The Lady Farmers had a string of jump shots and steals in the second quarter which resulted in a 24-16 lead at halftime.
The Farmers proved to be too much for the Spartans. Adolpho made it difficult for the Spartans to defend. She was often double or triple-teamed, which opened up other opportunities on offense for the Lady Farmers. Molokai won 57-34.
The Lady Farmers improve to 5-0 this season.
The team will travel to Maui this weekend to face-off against St. Anthony.