Molokai Holokai Brings Community Races
Youth in Motion News Release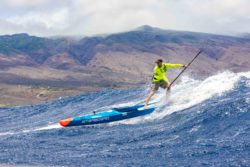 The Molokai Holokai Ho'olaule'a is to be held on Molokai, July 14-15 and is a combination of some fun ocean paddling and land events.
The event kicks off on July 14 with the Maui to Molokai Challenge, 27 miles from DT Fleming Beach Park, Maui, at 9 a.m. and the Gorilla Ogo and Mangrove Seed contest kicks off on the Molokai side at Kaunakakai Harbor, Molokai, with Sustainable Molokai. Finally, a late afternoon evening Skate Jam session will be held at the Molokai Community Health Center (MCHC) with local boy Alex Mawae.
Day two is full of action on Molokai, with the Ho'olaule'a bringing out the community and visiting paddlers to enjoy a day of festivities as we celebrate our youth. If you want to do it all, you can, or choose events that suit you.
Bright and early on July 15 at the Ali'i Fishpond run by Ka Honua Momona, the 1-5 K Molokai Holo Fun Run starts at 6:30 a.m. finishing at the MCHC, followed by some more Gorilla Ogo and Mangrove Seed contest at 8 a.m. The downwinder paddle race from Kamalo Harbor to the Health Center starts at 11 a.m., with the Ho'olaule'a officially opening at 12:30 p.m. at MCHC with food, entertainment, cultural workshops and keiki corner. Finally, the highlight of the whole event is the Keiki and Makua Paddle race, a three-quarter mile paddle race at 3 p.m.
The event is here to support the youth and inspire them to get into the ocean and be active and healthy. If you have your keiki and want a fun family day, please sign up, as most events are free. More info is on the website at molokaiholokai.com.
Support provided by Hawaii Tourism Authority through the Community Enrichment Program and the County of Maui and other sponsors and brought to you by Youth in Motion, a Hawaii nonprofit organization and community.