Molokai Hit Hard with Rising Cost of Fuel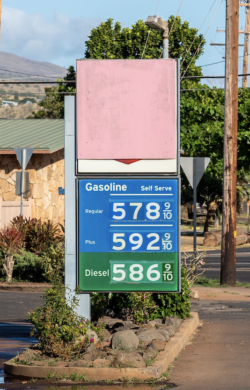 By Catherine Cluett Pactol
As drivers gasp at the gas prices skyrocketing recently, rising fuel costs around the globe will soon drive the cost of living for Molokai residents even higher, and officials are urging consumers to find ways to save. Hawaiian Electric just warned of a 25 percent increase for Molokai customers in upcoming electric bills from a jump in fuel prices, and changes to the global oil market will affect everything from food costs to airfares to monthly utility charges.
Last week at the gas pumps, residents saw an overnight jump from $5.63 to $5.78, coming after recent weeks of frequent increases. Officials say it's caused from a combination of recent inflation and a current ban on the U.S. purchasing of crude oil from Russia as a result of Russia's invasion of Ukraine.
"The price of fuel is rising throughout the world because the cost of crude oil has been increasing," said Marc Inouye, director of government and public affairs for Par Hawaii, a major fuel distributor in the state and Molokai's provider for gasoline, on Saturday. "Just within the past five months, the cost of crude, the main ingredient for refined products, has increased by about 20 percent and recently reached $130 per barrel. It is now hovering at $110 per barrel."
Par Hawaii operates the state's only refinery in Kapolei, Oahu.
"In Hawaii, we produce all of the fuel products on Oahu and they then are barged to the neighbor islands, including Molokai," continued Inouye. "The shipping rates to the neighbor islands are also a factor in the price of fuel. It's too early to tell how crude oil prices will impact shipping rates over the next few months, but we will keep you informed of any updates as we learn more."
Prior to President Biden's executive order prohibiting purchase of Russian crude oil, Par Pacific made the decision to suspend buying crude oil from Russia, added Inouye.
"We have been sourcing our crude oil from other locations, primarily from North and South America," he said.
Hawaiian Electric includes fuel cost surcharge in its formula for rates, regulated by the Public Utilities Commission, to account for the fluctuation of fuel prices in the world market.
"Hawaiian Electric makes no profit on the fuel used to generate electricity. Under a fuel-cost risk-sharing regulatory mechanism, the company's shareholders are required to pay some of the cost when oil prices rise too high, resulting in a slightly lower rate for customers," the utility stated in a news release last week.
But with economic sanctions on Russia, Hawaiian Electric is forecasting residential bills for Oahu customers will rise about 10 percent over the next several months, with Maui County increases estimated at 20 percent.
"The increases we're anticipating are more abrupt than we've seen before and, on top of the inflation we've all experienced in recent months, I know they will impact the budgets of many households," said Joe Viola, Hawaiian Electric senior vice president of customer, legal and regulatory affairs.
However, Mahina Martin, Hawaiian Electric's director of government and community affairs said the impact will be even greater for Molokai customers.
"…Because Molokai's population is relatively smaller in size than other islands, we're anticipating the increase to be around 25 percent or $45 over several months," she said. "We know that's a lot and that the cost of living is extraordinarily high for Molokai residents already. Having a higher electric bill will make things even more difficult for those already struggling. That's why we're letting everyone know about these increases now, before they hit, so that residents and businesses take steps to reduce their use and prepare. It can make a difference while we make our way through the events happening in Ukraine in the next several months. Although forecasts call for a slight reduction this summer, it will depend on the international situation."
She suggested simple steps such as unplugging electronics when not in use, using less hot water, and getting rid of that old, second refrigerator that uses a lot of electricity can help reduce residents' bills.
Molokai resident Matt Yamashita has long been involved in renewable energy on Molokai and is one of the founding members of Sust'ainable Molokai's Molokai Clean Energy Hui, which is facilitating the Community Energy Resilience Action Plan (CERAP) effort, an independent, community-led and expert-informed collaborative planning process to increase renewable energy on Molokai. Yamashita said the situation is "a real call to action" for moving away from the island's dependence on fossil fuels.
"For me, the main takeaway for our community is the importance of really making the move toward renewable energy resources for our island and get away from our dependence on fossil fuel," said Yamashita. "It's a hard reminder but also fully puts the reality of what we're dealing with in our face right now."
While it's never a good time to increase the cost of living, Yamashita pointed out the positive side that progress is already being made toward Molokai generating a large portion of its own renewable energy, with a community planning process underway and working toward that goal with Hawaiian Electric.
"This confirms that work and underscores the urgency because we don't know what future global markets are going to do for oil," he said. "Whether it's a hurricane that cuts us off from fuel or a war in Ukraine, this just shows how reliant we are on fuel from across the ocean, it's not a sustainable way to live. Hopefully it's a real call to action to get to that place we have been talking about for decades — all the pieces are already in place."
With 50 percent of the island's energy needs open for large-scale renewable energy, a Molokai community-led initiative called the Hoʻahu Energy Cooperative has been working to develop a framework for a community-owned energy coop proposal that would benefit residents and the environment.
Martin said Hawaiian Electric has also been part of the CERAP development.
"For over a year now we've been involved with the Molokai Clean Energy Hui, a program of Sustʻainable Molokai," she said. "The Clean Energy Hui's work to increase community knowledge about renewable energy and how the grid operates on Molokai will help guide us on future plans with key insight and input from Molokai residents themselves."
In the meantime, Martin said Hawaiian Electric is "working on coordinating efforts with resource organizations and programs on Molokai to find ways to provide relief to Molokai residents."
"By consolidating what's available in financial support, combining our public education efforts to help folks learn how to conserve energy in their homes and businesses, and looking for any other ways we can offer support, we can hopefully lessen the financial impacts to struggling families," she said.
For more information and electricity resources, visit hawaiianelectric.com.