Molokai History Project Updates
Molokai History Project News Release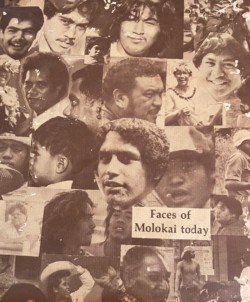 Every day we are working in our space, next to the Credit Union in Kaunakakai, to have everything ready to open on Friday, Oct. 6. We've had two garage sales to raise money to pay the rent, we are painting the entire space so it's fresh and bright, and we are collecting memories of days gone by from folks in the community who would like to share. We welcome any help offered to us. We need board members to help make decisions as the project grows, we need docents to keep the doors open Monday through Saturday from 9:00 a.m. to 4:00 p.m., each docent with a two-hour shift. We need monetary donations, and we have created several ways that you can contribute. You can have your recycle check made out to the Molokai History Project, you can donate $1 anytime you feel like it, and you can choose a membership that suits you best.
Halawa membership, which is a yearly donation of $25 honoring you as an early supporter.
Wailau membership, which is a yearly donation of $50 enabling you to visit the museum to study the exhibits more thoroughly at your convenience.
Pelekunu membership, which is a yearly donation of $75 with a private tour at a specified time.
Waikolu membership, which is a yearly donation of $100 with a private tour for family and friends and a Bennett "valley" ceramic pot.
It's time to honor folks who have left an imprint on Molokai's history, to enjoy learning in more detail about our fishponds, our valleys, our legends and our aloha spirit by sharing experiences and expanding our knowledge. Come along and join us as we work together to gather cultural or historical objects to be shared with everyone and which will always be treated with extreme care at the Molokai History Project.
Contact the Molokai History Project at molokaihistoryproject@gmail.com.