Molokai High Paddling Starts Strong
The girls' paddling team won the varsity race in their first regatta of the season at Ka Lae Pohaku on Maui last Saturday.
"It was such an unreal day," said coach Tania Kaholoaa. "The weather conditions were really good, and the girls were nervous but they were ready. They were hungry."
Kawena Puhi, Kailana Ritte-Camara, Leenell Hernandez, Jasmine Borden, Crystal Puaoi-Kawai, and Natalia Levi won the half-mile girls final with a time of 4:22.67, beating out second-place Baldwin High School. This is the first time in Kaholoaa's three year coaching career at Molokai High School that the girls' won a varsity race.
"[We will] keep training harder, you know everyone's going to want to come back for us," she said. "We need to hold our ground."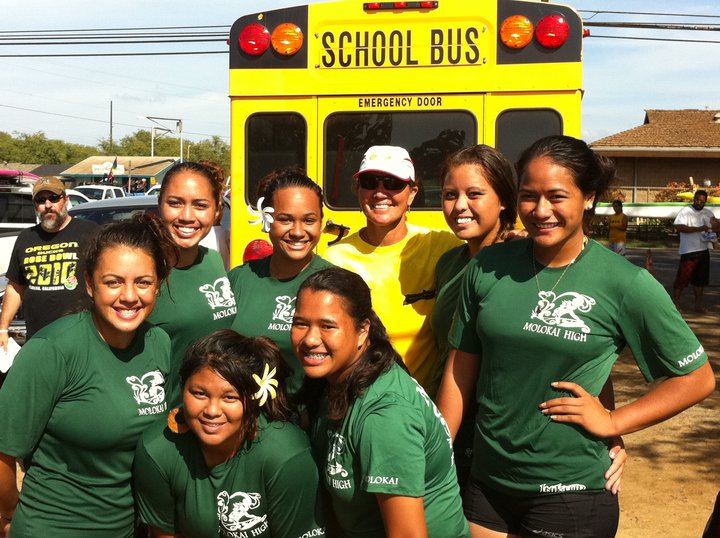 Kaholoaa said her brother, Bozo Dudoit's expertise was also "a big push for them." Dudoit helps as an assistant coach, getting in the water with the girls in his one-man canoe.
The girls' chemistry has a lot to do with their victory. Between paddling and playing volleyball in club competitions, many of the girls have trained together in a variety of sports for years. Paddlers like Puhi and Levi added something extra to the high school team this year, having only competed in club races before.
The girls' meet their opponents again on Jan. 8 at Hanakao`o.
Boys' Paddling
The boy's wa`a had a victory of their own. With a novice crew, Molokai made it to the final race and came in sixth at 4:15.81.
"For such a young crew they did really well," said coach Dave Gilliland. "Now they know what to expect."
Gilliland's team has one returning paddler – his son Eric, the steersman – with a crew of first-timers.
"They get on well together, they look after each other on and off the water," Dave said. He added that during the winter break they will be working on fundamentals and fine tuning their starts. Eric added the crew hopes to be in the top four at their next meet.
The boys' will also head to Hanakao`o on Jan. 8.