Molokai Harvest
Seventh annual Food & Business Expo.
Attendees of this year's Food and Business Expo sampled sirloin medallions rubbed with Molokai coffee, sweet prawns marinated with fresh Molokai herbs, spicy tuna adorned by Molokai sweet potato chips, and candied Molokai pumpkin and papaya salad along side cheesecake.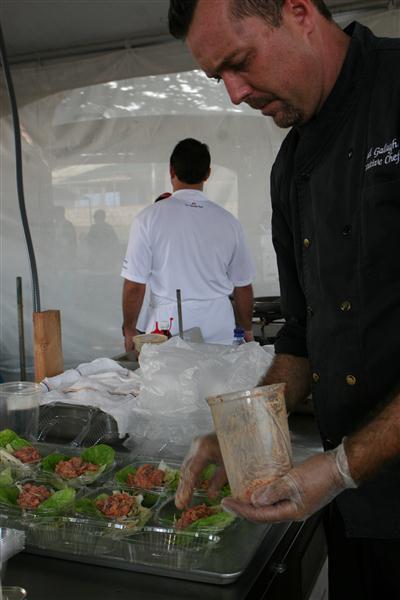 The seventh annual event featured many Molokai products – a first for some of the featured chefs. Michael Gallagher, former executive chef of Na Pili Kai Resort on Maui, has been a contributing chef at the expo for the past five years.
"I love the people here," he said. "Its fun, laid back, and a relaxed place to come to."
Gallagher said he especially liked being able to promote local farmers.
"Chefs have a bond with farmers and fishermen," he explained.
Emanuela Vinciguerra, better known as Manu, is the sales and marketing director for Kumu Farms, which donated produce to the Expo for the first time this year.
"I think it's a great opportunity for Molokai to be known for produce in the islands," Vinciguerra said. She said the Expo is an opportunity to promote the culture of Molokai as well as its produce. Businesses like Kumu Farms and Pu`u O Hoku Ranch keep jobs on Molokai by providing produce for the island.
The same produce used by the chefs in their displays was sold at the new Country Store, a booth featuring Molokai-grown produce, along side the vendors. Local arts and crafts businesses, entrepreneurs and a fundraising booth for Molokai High school were among other vendors that participated.
Ameron-John K. Madela, shell jeweler of Lohikai O Molokai, normally participates in the Saturday Farmer's Market, and decided to try out the Expo for the first time. Every booth has to have a demonstration, he explained, as he showed off wooden bowls full of different colored shells.
One bowl was full of rocks and broken shells to show how difficult it is to find his specific shells. He said many people were surprised to see the bowls were full of naturally-colored shells, in pink, red and beige, and were not artificially stained beads.
Robert Stephenson, president of the Molokai Chamber of Commerce, which hosts the annual event, said this year's event was the most highly attended in the Expo's history.
"The goal of the event is to promote and enhance a better quality of life for the people of Molokai as well as keeping in mind its unique lifestyle and diverse cultures," he said via email.
Residents and visitors to the island were also entertained by Moana's hula halau, musical group Sixpac and demonstrations by the chefs throughout the day.