Molokai Group Unites Against Industrial Wind
A group of Molokai residents have banded together in hopes that a proposed wind farm on the island will blow away. The mission of I Aloha Molokai, or IAM, is to educate fellow residents about, and organize opposition to, plans for wind turbines on Molokai and an undersea cable that would carry that energy to serve Oahu's energy needs.
They began those efforts publicly by inviting Robin Kaye of Friends of Lanai (FOL) – a group already vocally opposed to a similar project on Lanai – to speak on Molokai last week.
"There was an overwhelming 'no' from the people of Molokai [to industrial wind energy on the island]," said one of IAM's organizer, Kanoho Helm. He was referring to a recent island-wide survey conducted by the `Aha Ki`ole, in which 93 percent of residents were opposed to a wind farm.
Meanwhile, wind company Pattern Energy continues to move forward in negotiations with Molokai Ranch and discussion with Molokai community members to build a proposed 200 megawatt (MW) wind farm on the island's west end.
Strength in Numbers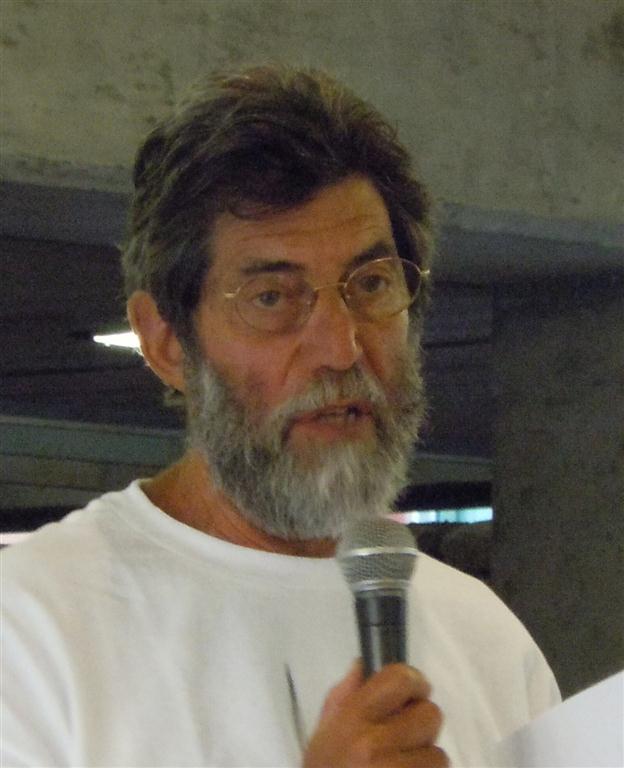 to ratepayers," according to Kaye. The bill did not pass in the past executive session, but received significant support from both the state House and the Senate.
The bill would have established a regulatory structure for installation and cost of the interisland electric transmission cable that would be built between Molokai, Lanai, Maui and Oahu. The bill authorized collection of a cable surcharge that would be assessed to ratepayers to reimburse the company building the cable for construction costs.
In addition, a "rate adjustment" would be authorized on ratepayers to cover the utility company's investment in the cable and on-island infrastructure.
Kaye urged residents to write to Rep. Mele Carroll and Sen. Kalani English in opposition to SB 367.
"Leaders think that people on neighbor islands are stupid," he said. "I think it would be incredibly powerful to say, 'these two islands say 'no.''"
Cost of Wind Energy
Mike Bond, Molokai resident and former CEO of an international energy company, shared with residents just how much he believes wind turbines could cost the community.
"Wind towers are astonishingly expensive and stunningly inefficient," he said of the proposed 400-foot turbines.
He estimated property values between Kaunakakai and Maunaloa would drop about 25 percent during construction of the turbines, and about 15 percent in the long run. He painted a vivid picture of the thousands of concrete trucks rolling down the highway carrying materials for the massive turbine foundations. He calculated it would take about 400 truckloads of concrete per windmill base.
Once the turbines are constructed, Bond said their design and fluctuation of energy produced is so inefficient that only about 16 MW out of the proposed 200 MW project would actually be available to send to Oahu. That means only about 1 percent of Oahu's energy consumption would be supplied by Molokai's wind farm, according to Bond.
"The whole thing is a hokey scam – it makes no sense financially," he concluded. "It is not pono to sell Molokai."
West end resident Bob Underwood agreed. "I'm not against it, but they better have a good reason before they disturb my refuge," he said.
Molokai resident Frank Leary has built many of his own wind generation systems, and shared his observations.
"Half the time of each year, wind generators – no matter what size – won't work here because there's not enough wind," he said.
In addition, Leary explained that because wind provides such an inconsistent source of energy, back-up generators would still be needed.
"It's not dependence from oil," he said. "That ain't going green a bit."
Stay tuned for more community meetings held by IAM. Pattern Energy will be also holding informational meetings in the month of June: June 21 at the Maunaloa Community Center, 5:30 – 7 p.m.; June 22 at the Mitchell Pauole Center, 6 – 7:30 p.m.; June 23 at Kilohana School, 6 – 7:30 p.m.